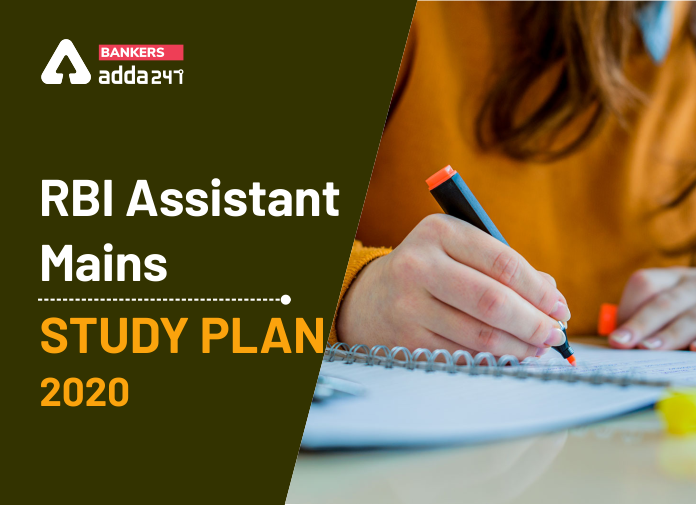 | Updated On March 30th, 2020 at 03:00 pm
RBI Assistant Mains Study Plan 2020: RBI Assistant prelims 2020 result declared. The Mains exam is Postpone due to coronavirus thus giving more time to students for their preparation. To guide you all for the RBI Assistant Mains Exam, we have come up with a study plan to make your journey more organized. This study plan is prepared keeping in mind RBI Assistant Syllabus and question paper trends. 
Practice With:

This is the best time when you can follow this study plan with all your heart and soul. With extra time, put in extra efforts to make sure that you are making into the final merit list. This study plan is especially made to help the students and save their time.
RBI Assistant Mains 2020: Check Exam Pattern
Total time allowed: 135 minutes
Total question: 200 questions
Sectional Timing- Yes
Sectional Cut Off- Yes
| Serial Number | Name of Test | No. of Question | Maximum Marks | Duration |
| --- | --- | --- | --- | --- |
| 1. | Test Of English Language | 40 | 40 | 30 minutes |
| 2. | Test of Reasoning | 40 | 40 | 30 minutes |
| 3. | Test Of Computer Knowledge | 40 | 40 | 20 minutes |
| 4. | Test Of General Awareness | 40 | 40 | 25 minutes |
| 5. | Test of  Numerical Ability | 40 | 40 | 30 minutes |
|   | Total | 200 | 200 | 135 minutes |
RBI Assistant Mains 2020: Study Plan
| | | | | | |
| --- | --- | --- | --- | --- | --- |
| Date | English language | Reasoning Ability | Numerical Ability | Computer Knowledge | General Awareness |
| 17 Feb | | Floor based puzzle, Direction and coding -decoding | Missing Series | Revision Computer Notes | Current Affairs of October+RBI and its Functions |
| 18 Feb | Column Based Filler +Sentence based Error Detection | Designation based puzzle, Inequality, Logical | Practice- Quadratic Equation  Comparison | Revision Computer Notes | Current Affairs of October+Capital/Currency |
| 19 Feb | Reading Comprehension  + Sentence Improvement  | Practice-  Syllogism | Average & Ages | Computer Quiz Set-01 | Current Affairs of November+Capital and Money Market |
| 20 Feb | | Month based puzzle, Syllogism, Input-Output | Ratio Proportion and Mixture & Alligation | Revision Computer Notes | Current Affairs of November+CM/Governor |
| 21 Feb | Starters  + Reading Comprehension  | Linear Puzzle, Blood Relation, Alphanumeric Series | Practice-  Data Sufficiency | Revision Computer Notes | Current Affairs of December+Money Market Instruments |
| 22 Feb | Cloze Test  + Coherent Paragraph  | Practice-Blood Relation | Partnership and Profit & Loss | Revision Computer Notes | Current Affairs of December+National Parks |
| 23 Feb | Mini Mock | Mini Mock | Mini Mock | Mini Mock | Mini Mock |
| 24 Feb | | Circular Puzzle, Coding-Decoding, Inequality | Simple Interest & Compound Interest | Revision Computer Notes | Current Affairs of January+Union Budget |
| 25 Feb | Sentence Rearrangement+ Vocabulary + Paragraph Completion | Floor Puzzle, Direction, Logical | Practice- Quantity Comparison | Revision Computer Generations | Current Affairs of February+Economy Survey |
| 26 Feb | Word Swap  + Double Sentence Single Blank  Fillers+Inference Based  | Practice- Coding Decoding, Inequalities | Time & Work, Pipe & Cisterns | Computer Quiz Set-02 | Current Affairs of February+Union Ministers |
| 27 Feb | Practice- Word Swap + Double Sentence single filler | Box Puzzle, Syllogism, Short Puzzle | Speed Time Distance, Trains, Boat & Stream | Revision -IT | Current Affairs of October+PSB's tagline |
| 28 Feb | Reading Comprehension  + Para-Jumble  | Triangular Puzzle, Data Sufficiency Blood Relation | Practice-Approximation | Revision Computer Terminology | Current Affairs of October+Indian Cities on River Banks |
| 29 Feb | Word Rearrangement + Phrasal Verb Filler +Word Usage | Practice-Linear Seating arrangements | Mensuration 2D & 3D | Revision Computer Hardware | Current Affairs of November+Monetary Policy |
| 1 March | Mini Mock | Mini Mock | Mini Mock | Mini Mock | Current Affairs of November+Capiatl/Currency |
| 2 March | Practice-Phrasal Verb Filler +Word Usage | Designation based Puzzle, Syllogism, Coding-Decoding | P & C and Probability | Revision-Computer-Terms in Banking | Current Affairs of December+ HQs of PSBs |
| 3 March | Column Based Phrase  + Paragraph Completion  | Month based Puzzle, Direction and Alphanumeric Series  | Practice-Age Problems | Revision-Computer-Terms in Banking | Current Affairs of December+CM/Governors |
| 4 March | Reading Comprehension + Double Sentence Single Blank Filler | Practice- Logical Reasoning | Quadratic Inequality & Quantity Based | Computer Quiz Set-03 | Current Affairs of January+International Financil Organisations |
| 5 March | Practice- Error Detection | Linear Puzzle, Blood Relation, Logical | Data Sufficiency and Wrong Number Series | Revision Computer Terms in banking | Current Affairs of January+Union Cabinet Ministers |
| 6 March | Error Detection,Vocabulary  | Circular Puzzle, Inequality, Direction | Practice-DI-Arithmetic | Revision-Computer Hardware | Current Affairs of February+Abbreviations in Banking/Financial |
| 7 March | Column Based, Para-Jumble | Practice- Circular Puzzles | DI 1 (Miscellaneous) | Revision- IT terms-Banking | Current Affairs of February/Capital of Indian Sates |
| 8 March | Mini Mock | Mini Mock | Mini Mock  | Mini Mock | Current Affairs of October+RBI and its functions |
| 9 March | Practice- Column Based, Idioms & Phrases | Floor Puzzle, Input-Output, Coding-Decoding | DI 2 (Miscellaneous) | Revision-IT-Terms Banking | Current Affairs of October+National Parks in India |
| 10 March | Reading Comprehension, Close Test | Square Puzzle, Alphanumeric Series, Logical | Practice- Caselet-DI | Revision- Hardware | Current Affairs of November+ Money Market Instruments |
| 11 March | Sentence Improvement, Idioms & Phrases | Practice- Box Puzzles | Caselet, Approximation | Computer Quiz Set-04 | Current Affairs of November+Wildlife sanctuaries |
| 12 March | English Quiz Miscellaneous Based | puzzle, input-output | Miscellaneous DI, Missing Series | All India Maha Mock | Current Affairs of December+Capital Market and Money Market |
| 13 March | Word Swap, Paragraph Completion | Box Puzzle, Syllogism, Miscellaneous | Practice-Mensuration | Computer Quiz Set-05 | Current Affairs of December+Union Budget |
| 14 March | All India Maha Mock | All India Maha Mock | All India Maha Mock | Mini Mock ( PYSP) | Current Affairs of January+Economy Survey |
| 15 March | Mini Mock (PYSP) | Mini Mock ( PYSP) | Mini Mock ( PYSP) | Mini Mock ( PYSP) | Mini Mock |
| 16 March | Practice- Word Swap & Paragraph Completion | Month Based Puzzle, Inequality and Short Puzzle | Caselet (Filler Based), Double Pattern Series | Computer Quiz Set-06 | Current Affairs of February+Indian Banking System |
| 17 March | Sentence Based Fillers, Error Detection | Circular Puzzle, Coding-decoding, Input-Output | DI-( Arithmetic) |   | Current Affairs of February+Nicknames of Indian Cities |
| 18 March | Column Sentence, Phrasal Verb Fillers | Practice- Input Output | Quantity Based, Quadratic Inequalities | Computer Quiz Set-07 | Current Affairs of March+Indian Banking System |
| 19 March | Reading Comprehension, Vocabulary | Designation based puzzle, Blood relation, Direction  | Word Problem, Approximation |   | Current Affairs of March+Financial Market |
| 20 March | Double Sentence Single Filler,Sentence Improvement | Linear Puzzle, Inequality, Logical | Practice- Data Interpretation, Missing Series |   | Current Affairs of November+Union Budget and Economy Survey |
|  21 March | Practice Error Detection, Word Swap | Practice-Data Sufficiency | Word Problem, Simplification, Caselet |   | Current Affairs of December+Union Budget and Economy Survey |
|  22 March | Mini Mock | Mini Mock | Mini Mock | Mini Mock | Mini Mock |
| 23 March | Coherent paragraph, Cloze Test | circular Puzzle,Syllogism, Input-Output | Word Problem, Quantity Based |   | Current Affairs of January+Capital/Currency |
| 24 March | Paragraph Completion, Word Usage | Square Puzzle, Coding-decoding, short puzzle | Practice- Simplification, Caselet, Data sufficiency |   | Current Affairs of February+CM/Governors |
| 25 March | Practice Column Based Filler,Reading Comprehension | Practice-Direction Sense | Missing series, Word Problem | Computer Quiz Set-08 | Current Affairs of March+Padma Awards 2020 |
| 26 march | Para-Completion, Inference Based, Error detection | Box puzzle, Blood relation, Miscellaneous | Data Interpretation, Approximation |   | Current Affairs of February+Natioanl Parks/wildlife santuries  |
| 27 March | Sentence Improvement,Word Usage, Para- Jumble | Circular Puzzle, Data Sufficiency | Practice- Caselet, Wrong Series, Word Problem |   | Current Affairs of March+Union Budger and Economy Survey |
| 28 March | Practice Reading Comprehension, Cloze Test | Practice- Floor Puzzles | Simplification, Data Interpretation, Quadratic Inequalities |   | Current Affairs of March+Union Ministers and their constituencies  |
|  29 March | Paragraph completion, Vocabulary | Month based Puzzle, Direction and Miscellaneous | Word Problem, Simplification, Missing Series |   | GA Practice Set |
|  30 March | Error detection, Word Usage | Circular Puzzle, Coding-Decoding, Inequality | Quadratic Inequality, Wrong Series, Caselet | Computer Quiz Set-10 | GA Practice Set |
| 31 March | Double Sentence Single Filler, Column Filler  | Linear Puzzle, Blood Relation, Series | Approximation, Data Interpretation, Word Problem |   | GA Practice Set |
Download RBI Assistant Mains Study Plan in PDF
Get Study Material for RBI Assistant Mains starting Rs. 299
Practice With: