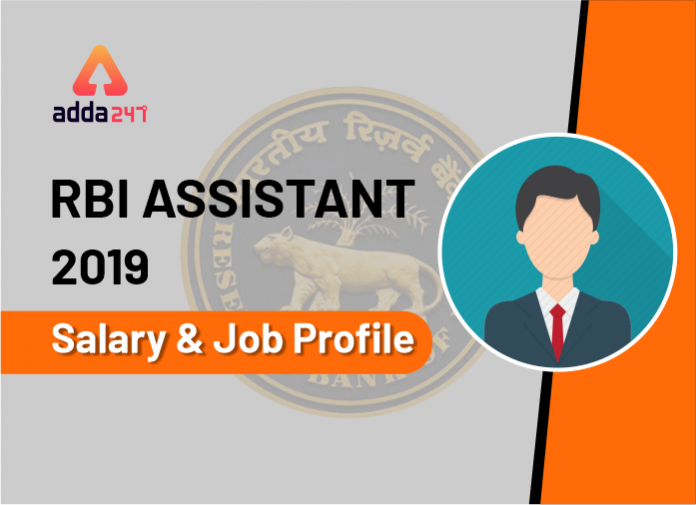 RBI Assistant Prelims Exam is scheduled to be held on 14th and 15th February 2020 according to official notification. A total of 926 candidates are to be recruited for the RBI Assistant post which is comparatively higher than previous year recruitment. After the release of official notification, the most common query among students is to know about the Salary and growth profile of RBI Assistant 2019. Well, it is important to know about the salary, perks, benefits and growth progression in RBI Assistant. Through this article, we have covered all the relevant information required for the aspirants who are aiming RBI Assistant post this year.

Apply online link has started and it will continue till 16th January 2020. Keep on reading this article to check the information on RBI Assistant Salary, benefits and growth profile. We will also discuss about the job profile and work responsibilities to be fulfilled by the employees.
RBI Assistant Salary 2020: Job profile and work responsibilities
Being a banker of the banks, RBI holds the recruitment process thus the responsibilities that one needs to undertake after selection holds the crucial importance. RBI recruits number of eligible candidates to support the ongoing challenges in RBI offices. When a new currency is released or there is demonetization in the country, Assistant has to bear several responsibilities.Below mentioned are some of the duties that are performed by the RBI Assistant post selection.
Duties and work responsibilities of RBI Assistant 2019
#To ensure about the financial stability
#To regulate currency and its circulation and any issue associated with the said term.
#Responsibilities related to government treasury work.
#Verification of various banking documents.
#Collection of receipts, maintenance of files, ledger and balance tally etc.
#Entering the daily transaction in computer and maintaining the fair record of the same.
#Responsible to reply the queries over mail on daily basis.
Check RBI Study Materials, Use Code XMAS50, Get 50% Off
RBI Assistant Salary and Perks 2019
RBI offers the highest salary even to the clerk of the organization. Due to its lucrative salary and other benefits employees are more rerouted towards this RBI. RBI is known as the bankers of the bank thus making it a center of attraction among aspirants.
Pay Scale Of RBI Assistant 2019
Assistants will draw a starting basic pay of ₹ 14,650/- per month (i.e. ₹ 13,150/- plus two advance increments admissible to Graduates) in the scale of ₹ 13150 – 750(3) – 15400 – 900(4) – 19000 – 1200(6) – 26200 – 1300(2) – 28800 –1480(3)– 33240 – 1750(1) – 34990 (20 years) and other allowances, viz. Dearness Allowance, House Rent Allowance, City
Compensatory Allowance, Transport Allowance etc., as admissible from time to time. At present, initial monthly Gross emoluments for Assistants approximately ₹ 36091/-.
Please note: 
* House Rent Allowance will not be paid to the employee, if Bank's accommodation is provided and license fee will be recovered from her/him @ 0.3% of pay at the starting stage of the pay scale of Class III.
RBI Assistant will also be given following benefits
Dearness Allowance
House Rent Allowance
City Compensatory Allowance
Transport Allowance
Apart from the benefits mentioned above, RBI Assistant is also eligible to avail the following perks
Housing Accommodation (Subject to availability)
Reimbursement for maintenance of Vehicle
Newspaper, briefcase, Book grant
Furnishing of residence subject to eligibility
Festival advance
Leave for concession
Five days working
Reimbursement of medical expenses
Loans at concessional rates
No public dealing is involved
RBI Assistant career growth 2019
RBI provides various multiple opportunity for career growth. Employees have to clear promotional or departmental test to be eligible for officer level. But once you get selected as RBI Assistant you have to serve a period of at least 3 years at this post to be eligible for promotion.
Promotional activities are conducted once in a two year where an Assistant can participate in the promotion process. There are two levels for an Assistant to get promoted to RBI Grade A officer level.
Willing employees will have to clear a written test , clearing after which he will be promoted to next level on the basis of seniority or work experience.
One can clear JAIIB or CAIIB exam conducted by Indian institute of Banking and Finance. But having a graduate degree is must.
Growth in RBI takes place in various form. You may expect to become Officer in RBI in few years. For instance check the table.
Growth opportunities:
RBI Assistant
RBI Grade A officer
RBI Grade B officer
RBI Grade C officer
RBI Grade D officer
We hope this article has served its purpose. Make sure you fill the application form before the deadline to avoid last minute hassle. Start preparing for RBI Assistant prelims right away. All The Best!
Check the RBI Assistant 2019 Notification 
Apply Online for RBI Assistant 2019