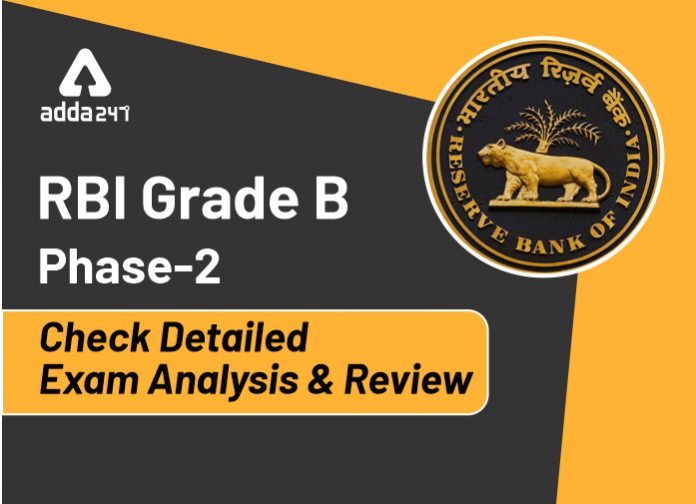 RBI has conducted RBI Grade B Phase 2 Exam today (1st December) 2019. Candidates who have made through the RBI Grade B Phase 1 must have appeared for the Phase 2 Exam. We hope all the candidates have performed well in the exam. We have come up with the detailed RBI Grade B Phase 2 Exam Analysis.
RBI Grade B Phase 2 Exam Analysis
RBI Grade B (General) Phase 2 Exam has 3 papers, out of which 2 papers are objective and 1 paper is descriptive in nature. Each of the paper is assigned 90 minutes and the maximum marks for each of them is 100 marks. There is a sectional as well as overall cut-off for the RBI Grade B Exam. So, candidates must have attempted the test accordingly.
Overall Analysis
RBI Grade B Phase 2 Exam is not at all easy as pie. The good attempts as per the review of students in the RBI Grade B Phase 2 Exam are given in the table below. It is clarified that good attempts are solely based on the review of students. The level of RBI Grade B Phase 2 Exam was of Moderate. The descriptive test was of moderate level.
| | |
| --- | --- |
| Papers | Good Attempts (in terms of marks) |
| Paper 1 (Economic & Social Issue) | 72-78 |
| Paper 3 (Finance & Management) | 60-65 |
| Total | 139-148 |
RBI Grade B Phase 2 Exam Analysis: Paper 1 (Economic & Social Issue)
This paper need extensive basic as well as ground level knowledge of economics. Most of the questions revolved around Government schemes. Here are some of the topics:

Pradhan Mantri Ujjwala Yojana

PM Kisan Samman Nidhi Yojana

Ayushman Bharat
Initiatives taken by the HRD ministry
GDP estimation according to Economic Survey
India's GDP forecast according to IMF
MSF/SLR – Definition
Amount of sanctioned issued to Maharashtra Government by ADB
Loan sanctioned by World Bank to an Indian State
Question related to Union Budget (scheme allocation)
Funds allocated in MNREGA
Amount of Capital Infused by Union Government in Public Sector Banks
Robot Bank launched by which bank?
FDI (Advance Question)
SDG Index (Health)
SDG  – Global Green Fund
Question Related to The United Nations Conference on Trade and Development (UNCTAD)
RBI Grade B Phase 2 Exam Analysis: Paper 2 (Descriptive English Language)
The level of this section is generally moderate and hence this year too, candidates found Paper 2, easier in comparison to Paper 1 and Paper 2. Three question are asked in this section including an Essay, Precis Writing and Letter.
Essay Writing (300 Words)
There were 5 Essay topics. Candidates were advised to attempt any one topic. Some of the topics asked are as follows:
Scope of 5G Technology in India
Higher Education: Issues & Challenges
Value of 'Vote' in Democracy

Reading Comprehension
The Reading Comprehension was based on International Monetary Fund (IMF)
Precis Writing (170 words)
The Precis Writing was based on Capital Account Convertability.
RBI Grade B Phase 2 Exam Analysis: Paper 3 (Finance & Management)
This section consisted of 100 marks. No Calculation based (numerical) question was asked. Following are some topics asked in this section:
A Bond with multiple maturity
Managerial Grid
ERG Theory
360 degree app
FRBM Act
Motivation
Communication
Corporate Governance
Leadership
Capital Market
Risk Management
Commercial Paper