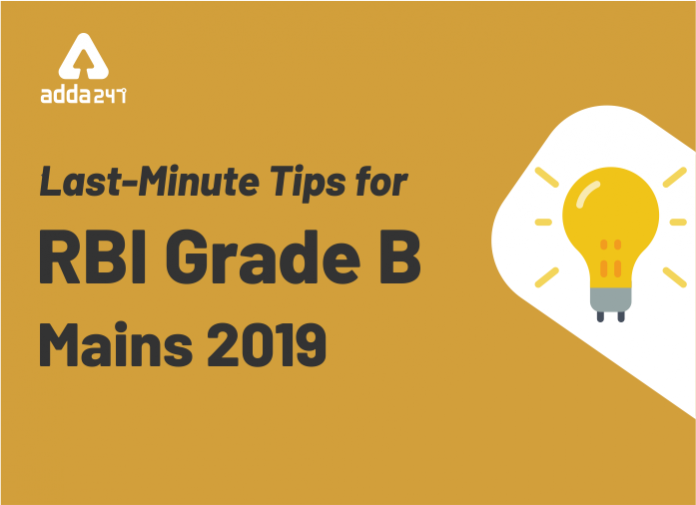 RBI has conducted the RBI Grade B examination for Phase I on 9th November 2019. RBI Grade B Phase I (Prelims) Results is released by the RBI on 18th November 2019. RBI Grade B Phase II exam demands a different approach as its pattern and syllabus is totally different than the Phase I exam. Only few days are left for the Phase II examination. RBI Phase II exam is to be held on 1st-2nd December 2019. Aspirants who have made through the RBI Grade B Phase I exam must be looking for some last minute polishing tips that can help an aspirant to emerge in flying colors.
RBI Grade B Phase-2 Preparation Guide
RBI Grade B exam for Phase II is very different than the Phase I, so it is necessary for a candidate to go through the exam pattern to get an insight of the same. Here is the RBI Grade B Phase 2 Exam Pattern 2019:
| Name of the Paper | Type of the Paper | Time (Mins) | Marks |
| --- | --- | --- | --- |
| Paper I (Economic & Social Issues) | Objective Type | 90 | 100 |
| Paper II (English- Writing Skills) | Descriptive (to be typed with the help of keyboard) | 90 | 100 |
| Paper III (Finance & Management) | Objective Type | 90 | 100 |
There are three papers in RBI Grade B examination which is mandatory for the post of RBI General Grade B: Paper I, II & III. RBI (DEPR) & RBI (DSIM) have to give just paper II & III. 
RBI Grade B Phase II Last Minute Tips
RBI Grade B is not a hard nut to crackle but once you are done with the basic concept, you don't need not to worry. The RBI has laid down a detailed syllabus for the Phase II exam, so what is needed is to take a look on the various important aspects. Here are some last minute tips to help you with the last 2 weeks of RBI Grade B Phase II:
Syllabus and Previous Year's Paper: First and foremost thing that you can do in these last few days is going through the syllabus and previous year's paper of RBI Grade B Phase. The previous year's paper provide an aspirant with a comprehensive glimpse of the examination. Also, there is one descriptive paper and other objective paper that too having economics and finance management as the core area. So, it is very important for an aspirant to take a deep view of the previous year's paper. Read all the topics of the syllabus and Google them to get a general view of them.
Online Mock test: The exam is conducted in online mode so solve online mock test. Solve as many mock as possible as it will not only help you with the real exam like experience but will also provide you with the best questions and exam trend. Attempt speed test and focus on the analysis. Do solve a mock every alternate day with the proper analysis. Analysis forms a major part of mock test.
Revise: You must have gone through the syllabus and exam pattern already. It is very difficult to crack RBI Grade B Phase II exam within 2 weeks. If you have cleared RBI Grade B Phase I, you must be having the basic idea of the current as well as static portion. All you can do is skim the syllabus and revise everything you have prepared. The learning part should be supplement with the revision, without it you will not be able to crack the exam.
Economics: Watch online videos of the main topics and revise it properly. Read Indian Express editorials and business news thoroughly. Also, you can refer to the last 6 months monthly magazine on economics and finance. Budget and Economic survey should be in your priority list. Cover them extensively.
Descriptive: Go through the previous year's paper of the RBI Grade B Phase II and try to write answers. Practice writing them by typing as the descriptive paper has to be given online mode. 
Relax: You should relax your mind. With only few days in your bucket, the main focus should be on productivity rather than binging on every new topic. Try to read, revise and solve whatever is there in the syllabus.