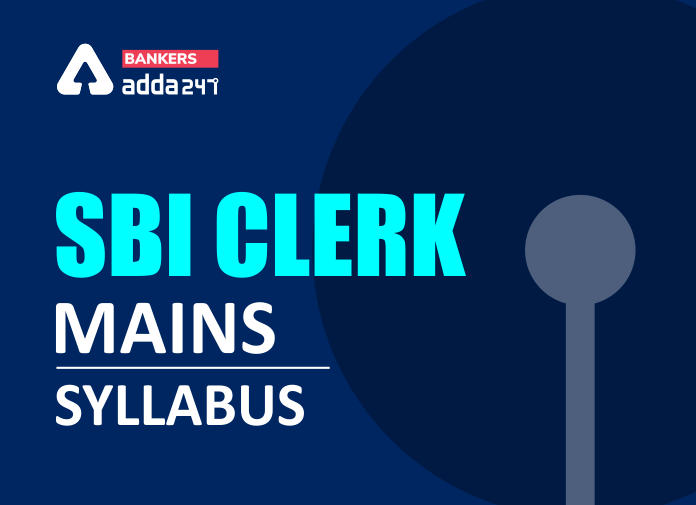 State Bank Of India has earlier released the notification for SBI Clerk early in January 2020. It had also successfully conducted the prelims examination of the same and was all set to conduct its mains examination on 19th April 2020 but due to the sudden pandemic outbreak, the mains exam got delayed but that does not mean that you should sit back and relax at your home and enjoy this quarantine by doing nothing. Make sure that you make the best use of this period. One of the first step before starting of anything is to know the syllabus of that exam and in this article, we will be providing you the detailed syllabus of Mains examination of SBI Clerk 2020.


Start Your Preparation for SBI Clerk Mains 2020:
SBI Clerk 2020: Syllabus for Mains Exam
SBI Clerk mains examination will constitute of 4 sections: Reasoning & Computer Awareness, General English, General/Financial Awareness, Quantitative Aptitude. The complete syllabus is discussed below:
SBI Clerk Mains Exam Pattern 2020
| | | | | |
| --- | --- | --- | --- | --- |
| Serial Number | Section | No. of Question | Total Marks | Duration |
| 1. | General English | 40 | 40 | 35 minutes |
| 2. | Quantitative Aptitude | 50 | 50 | 45 minutes |
| 3. | Reasoning Ability and Computer Aptitude | 50 | 60 | 45 minutes |
| 4. | General/Financial Awareness | 50 | 50 | 35 minutes |
| | Total | 190 | 200 | 2 hours 40 minutes |
SBI Clerk Mains Syllabus 2020
Quantitative Aptitude Syllabus
General English Syllabus
General/Financial Awareness Syllabus
Reasoning Ability Syllabus
Computer Awareness Syllabus
Simplification
Reading comprehension including Synonyms and Antonyms
Current Affairs –  related to banking industry, awards and honors, books and authors,latest appointments, obituaries, new schemes of central and state governments, sports, etc.
Internet
Basics of Computer: Hardware, Software, Generation of Computers
Number Series
Sentence rearrangement or Para jumbles
Static GK – country-capital, country-currency, headquarters of financial organizations (of insurance companies), constituencies of ministers, dance forms, nuclear and thermal power stations, etc.
Machine Input/Output
DBMS
Data Sufficiency
Sentence Correction/ Error Finding
Banking/Financial terms
Syllogism
Networking
Data Interpretation
Spell Checks
Static Awareness
Blood Relation
Internet
Quadratic Equation
Fillers
Banking and Financial Awareness
Direction Sense
MS Office
Time & Distance, Work
Cloze Test
Inequalities
Input-Output Devices
Partnership
Puzzles
Important Abbreviations
Profit & Loss
Coding-Decoding
Simple and Compound Interest
Ranking
Mixture and Allegations
Statement and Assumptions
Ratio & Proportion, Averages, Percentages
SBI Clerk Mains 2020: Quantitative Aptitude
Given below is the complete list of Quantitative Aptitude expected number of questions topic-wise. This list is based on the analysis of previous year exams.
| | | |
| --- | --- | --- |
| Topic | Number Of Questions | Level |
| Number Series | 5 | Moderate |
| Data Interpretation | 10-15 | Moderate-Difficult |
| Simplification | 3-5 | Easy- Moderate |
| Approximation | 5 | Easy-Moderate |
| Quadratic Equation | 5 | Moderate |
| Quantity Based Questions | 5 | (3) Moderate & (2) Difficult |
| Data Sufficiency | 5 | Moderate-Difficult |
| Miscellenous | 10-15 | Moderate-Difficult |
SBI Clerk Mains 2020: General English Language
| | | |
| --- | --- | --- |
| Topic | Number Of Questions | Level |
| Reading Comprehensions | 10-15 | Moderate-Difficult |
| Cloze Test | 10 | Moderate |
| Para Jumble/Sentence Rearrangement | 5 | Moderate-difficult |
|  Sentence Improvement/ Sentence Corrector | 5 | Easy-Moderate |
| Spotting Error | 5 | Moderate-Difficult |
| Fill In The Blanks | 5 | Easy -Moderate |
| Sentence Connector | 5 | Easy-Moderate |
| Odd One Out | 3-5 | Moderate |
SBI Clerk Mains 2020: Reasoning & Computer Awareness
| | | |
| --- | --- | --- |
| Topic | Number Of Questions | Level |
| Syllogism | 5 |  Moderate |
| Inequality | 3 | Easy |
| Seating Arrangement in circular | 5 | Moderate |
| Linear Arrangement | 5 | Moderate |
| Puzzle | 5 | Moderate |
| Coding-Decoding | 3-5 | Moderate |
| Blood Relation | 2-3 | Moderate |
| Order and Ranking | 2-3 | Moderate |
| Direction Sense | 1-2 | Moderate |
| Data Sufficiency | 3-4 | Moderate |
| Input-Output | 5 | Easy-Moderate |
SBI Clerk Mains 2020: General Awareness
| | | |
| --- | --- | --- |
| Topic | Number Of Questions | Level |
| Banking & Financial Awareness | 5-7 | Easy |
| Current Affairs | 20-25 | Easy-Moderate |
Practice with,