Adda 247 will provide you daily Quantitative Aptitude Mock of "SBI PO Prelims. In today's Quantitative Aptitude Mock, we have Data Interpretation. Stay tuned with bankersadda to get  Quantitative Aptitude Mock and boost your preparation for the upcoming bank exam. You can also prepare with the study plan for SBI PO available on the bankersadda website.

Directions (1-5): Given below is the line graph showing percentage of students taking Hindi, Sociology or Psychological education as their optional subject in class 12th in different years. Study the graph carefully and answer the following questions: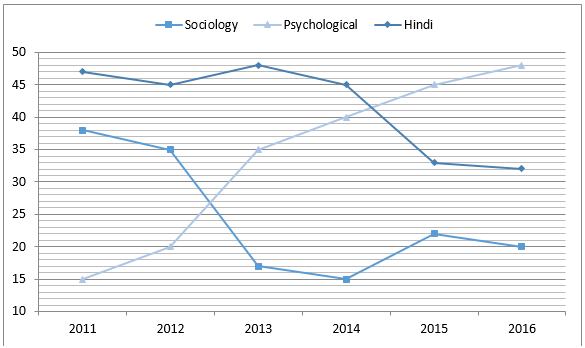 Q1. In 2013, number of Sociology students is 272 but it increases in 2016 by 238. Find the ratio of number of Hindi students in 2013 and 2016.
(a) 17 : 16
(b) 16 : 17
(c) 15 : 17
(d) 13 : 14
(e) 11 : 16
Q2. In 2011, total number of students is 1000, and it increase and decrease by 10% in every successive year respectively. Find the difference in total number of students in 2012 and 2014.
(a) 111
(b) 11
(c) 121
(d) 19
(e) 107
Q3. If the total number of students in 2013 are 30% less than that in 2016, then the number of Sociology students in 2016 are what percent (approx.) of number of Hindi students in 2013?
(a) 72%
(b) 55%
(c) 50%
(d) 60%
(e) 65%
Q4. Find the average percentage of Psychological education students over the years (approximate).
(a) 38%
(b) 32%
(c) 34%
(d) 42%
(e) 27%
Q5. Number of Sociology students in 2012 are 434 and that of Psychological Education students in 2014 are 520. Find the percentage by which number of Hindi students in 2012 are more or less than that in 2014. (approximate)
(a) 5%
(b) 7%
(c) 10%
(d) 15%
(e) 18%
To attempt the complete quiz refer to the links given below:
Practice with Crash Course and Online Test Series for SBI PO Prelims:
Register here to get study materials and regular updates!!
If you are preparing for SBI PO Prelims Exam, then you can also check out a video for Quantitative Aptitude below: