SBI SO & Armourers Recruitment 2020: SBI (State Bank of India) will release official notification for the recruitment of Specialist Cadre Officers & Armourers in Clerical Cadre (for Ex-servicemen only) soon.
According to The Times of India (New Delhi Edition) dated: 22nd January 2020, there are 106 vacancies in various disciplines like HR, Law, Data Scientist, Statistics, Defence Banking Advisor etc.

SBI SO & Armourers Recruitment 2020: Schedule
Commencement of online application:23rd January 2020
Last Day to fill online application: 12th February 2020
SBI SO & Armourers Recruitment 2020: Post-wise Vacancies
There are total 106 vacancies for the posts of Specialist Officers & Armourers. Get discipline-wise vacancies from the table mentioned below.
Sr. No.
Post
Cadre
Regular/Contratual
Vacancy
1.
Defence Banking Advisor
(Navy & Air Force)
Officer
Contractual
2
2.
Circle Defence Banking
Advisor
2
3.
HR Specialist (Recruitment)
Regular
1
4.
Manager (Data Scientist)
10
5.
Deputy Manager (Data Scientist)
10
6.
Deputy Manager (System Officer)
5
7.
Senior Special Executive
Officer
Contractual
1
8.
Senior Executive (Statistics)
Officer
Regular
1
9.
Deputy Manager (Law)
Officer
Regular
45
10.
Armourers
Clerical
Regular
29
The newspaper cutting of the recruitment has been given below. All the other information like Eligibility Criteria (Age, qualification, experience etc.), application fee etc. will be updated once the official notification is released on the website of State Bank of India (SBI).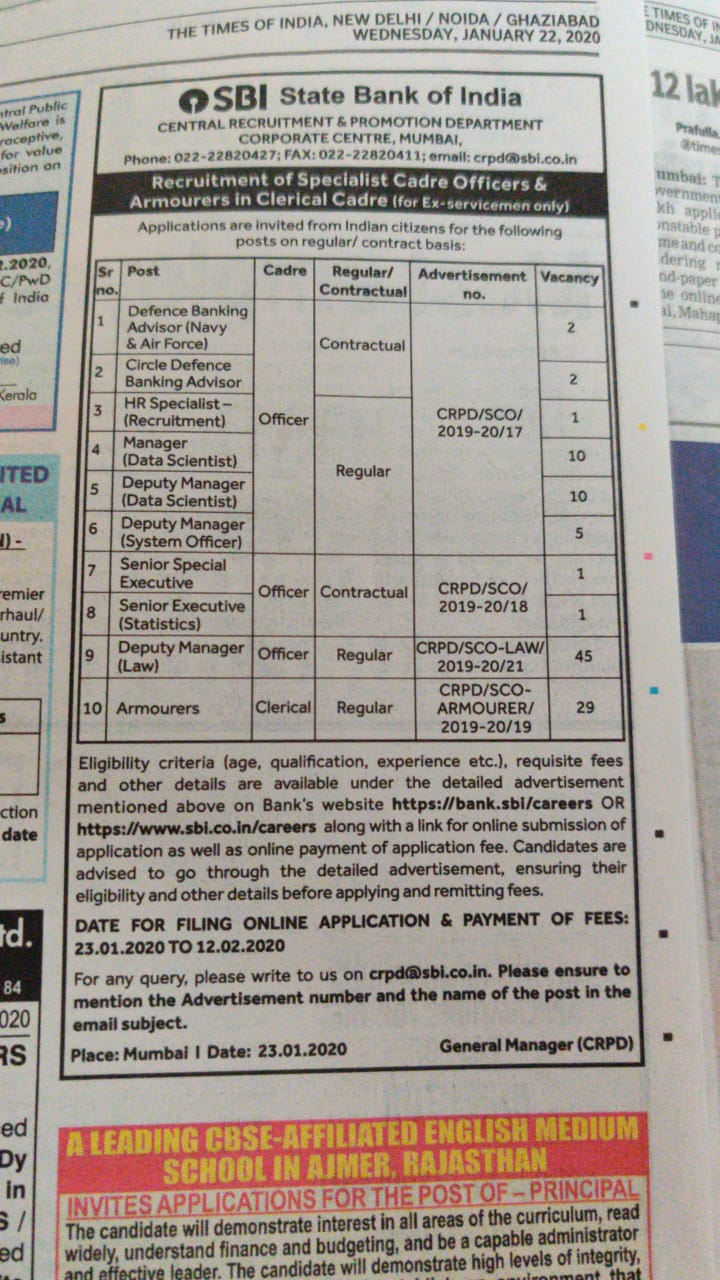 Also read:


Click Here to Check IBPS Clerk Mains Test Series and Live Batches