SIDBI Grade A Salary 2022-23: The candidates aspiring to work as Assistant Manager in the Small industries and development bank of India would be curious to know the SIDBI Grade A Salary 2022-23. SIDBI offers a lucrative amount of salary along with perks and allowances to Grade A Officers. Candidates can check all the details related to SIDBI Grade A Salary 2022-23 such as basic pay, allowances, and other benefits from the article below.
SIDBI Grade A Salary 2022-23
Candidates should be updated with the SIDBI Grade A Salary 2022-23 along with their job profile and career growth. A SIDBI Grade A Officer will receive the initial basic pay of 44,500 along with several perks and allowances. The in-hand salary of a SIDBI Grade A employee will be around 70,000 thousand rupees approximately. SIDBI offers the employees a great standard of living by providing facilities like bank accommodation/leased flat facility, loan facility for home and car, etc.
SIDBI Grade A Salary 2022-23: Overview
Aspirants can get an overview of SIDBI Grade A Salary 2022-23 in the below table.
SIDBI Grade A Salary 2022-23: Overview
Organization
Small Industries and Development Bank of India
Exam Name
Grade A Exam 2022
Post
Assistant Manager
Vacancy
100
Notification Date
13th December 2022
Application Date
14th December 2022
Exam Date
28th January 2023
Official website
www. sidbi.in
SIDBI Grade A Salary 2022-23
Check This Post in Hindi
SIDBI Grade A Salary 2022-23: Salary Structure
SIDBI Grade A officers will get a basic initial pay of 44500 along with some allowances. Aspirants can check the break up of salary structure below
SIDBI Grade A salary 2022-23
Basic Pay
44500.00
Grade Allowance
6250.00
Special Allowance
8250.00
Dearness Allowance
23196.32
Local Compensatory Allowance
4005.00
Special Perquisite Allowance
7383.00
Coin Element
0.68
Learning Allowance
600.00
Deductions
18112.00
Net Salary
76,073.00
SIDBI Grade A Salary 2022-23: Deductions
The net SIDBI Grade A salary received by an employee is after making the deductions. The deductions are made for several reasons such as for NPS, Income Tax, Health & Education Cess, etc. Here, in the given table we have summarized the SIDBI Grade A Salary 2022-23 Deductions.
SIDBI Grade A Salary 2022-23: Deductions
Name of the Deduction
Amount
National Pension System
7395.00
Income Tax
7099.00
Health & Education Cess
284.00
Profession Tax
200.00
Lounge Recoveries
400.00
House Rent
334.00
Additional Rent
2000.00
Officer Association Subscription
100.00
Mass Monthly Subscription
300.00
Total Deduction
18112
SIDBI Grade A Latest Salary Slip 2022-23
Aspirants preparing for SIDBI Grade A Exam 2022-23 would be curious to have a look of the SIDBI Grade A Latest Salary Slip. Here, we have provided the SIDBI Grade A Pay Slip for December 2022.
SIDBI Grade A Salary 2022-23: Perks and Allowances
SIDBI offers its employees a lucrative salary package including various perks and allowances. Candidates can check the list of perks and allowances given below
City Compensatory Allowance
Family Allowance
Special Allowance
House Rent Allowance
Dearness Allowance
Learning Allowance
Grade Allowance
Local Allowance
Apart from salary, SIDBI Grade A Assistant manager will also get other facilities, a brief description of which is given below.
Facilities Provided to SIDBI Grade A Employee

Pension
Gratuity
Leave Fare Concession
Reimbursement of medical expenses
Reimbursement of vehicle maintenance

Vehicle Loan
Housing Loan
Bank's accommodation/Leased Flat Facility
SIDBI Grade A Salary 2022-23: Job Profile
As per the official notification released candidates can check the job profile of SIDBI Grade A officer which is given below
participate in internal management/administration, control and monitoring related functions to ensure that the Bank remains an adaptable and responsive organization amidst changing dynamics of MSME sector and overall economy. 

To be key input providers in Business Analytics and decision-making process by gathering regular market feedback/research and update the Management with 

the trends in their areas/clusters to assist Bank in prioritization of various new




initiatives and projects

Contributing in entrepreneurship promotion & skill development activities of the Bank for the MSME sector, including facilitating co-operation and co-ordination with various stakeholders



Augmenting credit penetration in MSME, Microfinance, Startup/Venture Capital Sector through Direct / Indirect Credit Delivery and Monitoring Mechanisms.
SIDBI Grade A Salary 2022-23: Career Growth
Candidates who will be Selected as SIDBI Grade A officer need to complete the probation period which is of 2 years but can be extended to 4 years as per the bank's requirement. Here we have given below, the career growth of the SIDBI Grade A officer.
SIDBI Grade A Officer( Entry-level)
SIDBI Grade B officer
Private Secretary in Grade B
SIDBI Grade C officer
SIDBI Grade D officer
SIDBI Grade E officer
SIDBI Grade F officer
Executive Director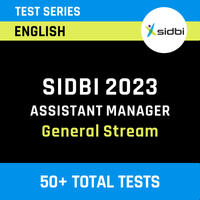 Related Post: