SIDBI Grade A Salary 2022: Small industries and development bank of India is one of the specialized financial institutions which works for the growth & development of the MSME sector. The thing which attracts most of the aspirants towards this organization is their wonderful salary package. A newly selected SIDBI Grade A officer will get the initial basic pay of 28,150 along with several perks & allowances. The in-hand salary of an SIDBI Grade A officer will be around 70,000 thousand rupees approximately. SIDBI offers you a great standard of living by providing facilities like bank's accommodation/leased flat facility, loan facility for home & car etc. In this article, we have covered all the details of the SIDBI Grade A Salary 2022, interested candidates can check below.
SIDBI Grade A Admit Card 2022 Download Link
SIDBI Grade A Salary 2022: Salary Structure
The post which SIDBI offers at entry-level is Assistant Manager Grade A, if you are curious to know what salary you will get after selection then you must check the latest salary structure which is given below:
Name of the post
Salary
Assistant Manager Grade A
28150-1500(4 Increments)-34350

34350-1750(7 Increments)-46600

46600-EB-1750(4 Increment)-53600

53600-2000-55600

After 17 years of service, the basic salary will be 55600

Net Salary-70000/ Rupees approx
Apart from salary, SIDBI Grade A Assistant manager will also get other facilities, the brief description of which is given below
Facilities Provided to SIDBI Grade A

Pension
Gratuity
Leave Fare Concession
Reimbursement of medical expenses
Reimbursement of vehicle maintenance

Vehicle Loan
Housing Loan
Bank's accommodation/Leased Flat Facility
SIDBI Grade A Apply Online 2022
SIDBI Grade A Salary 2022
SIDBI Grade A officers will get a basic initial pay of 28150 along with some allowances. Aspirants can check the break up of salary structure below
SIDBI Grade A salary
Basic Pay
28150
Increment
4 Stagnation Increments
Local Allowance
5% of Pay
House Rent Allowance
10% of Pay
Family Allowance
4% of Pay
Grade Allowance
6000
Special Allowance
6500
Special Compensation Allowance
625
SIDBI Grade A Special Pay
2000
Net Salary
70,000
Click here to check SIDBI Grade A syllabus and exam pattern 2022
SIDBI Grade A Salary 2022: Perks and Allowances
SIDBI offers its employees a lucrative salary package including various perks and allowances. Candidates can check the list of perks and allowances given below
City Compensatory Allowance
Family Allowance
Special Allowance
House Rent Allowance
Dearness Allowance
Learning Allowance
Grade Allowance
Local Allowance
SIDBI Grade A Salary 2022: Job Profile
As per the official notification released candidates can check the job profile of SIDBI Grade A officer which is given below
participate in internal management/administration, control and monitoring related functions to ensure that the Bank remains an adaptable and responsive organization amidst changing dynamics of MSME sector and overall economy. 

To be key input providers in Business Analytics and decision-making process by gathering regular market feedback/research and update the Management with 

the trends in their areas/clusters to assist Bank in prioritization of various new




initiatives and projects

Contributing in entrepreneurship promotion & skill development activities of the Bank for the MSME sector, including facilitating co-operation and co-ordination with various stakeholders



Augmenting credit penetration in MSME, Microfinance, Startup/Venture Capital Sector through Direct / Indirect Credit Delivery and Monitoring Mechanisms.
SIDBI Grade A Salary 2022: Career Growth
Candidates who will be Selected as SIDBI Grade A officer need to complete the probation period which is of 2 years but can be extended to 4 years as per the bank's requirement. Here we have given below, the career growth of the SIDBI Grade A officer.
SIDBI Grade A Officer( Entry-level)
SIDBI Grade B officer
Private Secretary in Grade B
SIDBI Grade C officer
SIDBI Grade D officer
SIDBI Grade E officer
SIDBI Grade F officer
Executive Director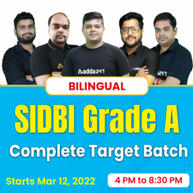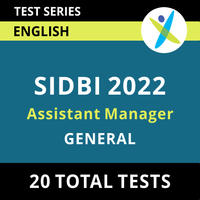 FAQs: SIDBI Grade A Salary 2022
Q. What is the in-hand salary of a SIDBI Grade A officer?
Ans. The in-hand salary of a SIDBI Grade A officer is 70000 rupees.
Q. What is the Initial Basic Pay of SIDBI Grade A officer?
Ans. The initial basic pay of a SIDBI Grade A officer is 28150