UPSC EPFO Syllabus 2023
Union Public Service Commission has released the official notification for 577 Vacancies. Interested and eligible candidates must be aware of the UPSC EPFO Syllabus.  The syllabus is the most essential element for the preparation of any competitive examination. The selection process of an Enforcement Officer/Account Officer will be held in two stages – The written Stage and Interview Round. Candidates will definitely benefit from in-depth knowledge of the syllabus and exam patterns. Here we have provided the detailed UPSC EPFO Syllabus 2023.
UPSC EPFO Official Notification 2023: Check Here
UPSC EPFO Syllabus 2023 Overview
The overview of the UPSC EPFO Syllabus highlighting the important points is given below to give a quick recall to aspiring candidates.
UPSC EPFO Syllabus Overview
Organization
Union Public Service Commission
Exam Name
UPSC EPFO Exam 2023
Post
Enforcement Officer/Accounts Officer
Vacancy
418
Category
Government Job
Job Location
All India
Selection Process
Written Exam & Interview
Application Mode
Online
Official Website
www.upsc.gov.in.
UPSC EPFO Syllabus 2023
Check This Post in Hindi
UPSC EPFO Syllabus 2023 PDF For EO/AO
The UPSC EPFO Syllabus has various sections for EO/AO from which the questions will be asked. The sections of the recruitment test as per the UPSC EPFO Syllabus are:
General English
Indian Freedom Struggle
Current Events and Developmental Issues
Indian Polity and Economy
General Accounting Principles
Industrial Relations and Labour Laws
General Science & Knowledge of Computer Applications
General Mental Ability & Quantitative Aptitude
Social Security in India
The detailed section-wise syllabus for the examination is given here.
UPSC EPFO Syllabus 2023 Download Section Wise
Knowing the UPSC EPFO syllabus is the most essential for clearing the exam. To qualify for the exam, aspirants should have an acquaintance with the topics of each section. The detailed section-wise syllabus for UPSC EPFO EO/AO written Exam is:
UPSC EPFO General English Syllabus
The topics of General English covered in the written exam of UPSC EPFO EO/AO written exam 2023 are given as follows.
Phrase replacement
Reading Comprehension
Sentence completion/ para completion
Cloze Test, Error Spotting
Fill in the Blanks,
Para Jumbles
Phrases/ Idioms
Spellings,
Synonyms/Antonyms.
UPSC EPFO Indian Freedom Struggle Syllabus 2023 for EO/AO
Indian Freedom Struggle comprises various topics that are important from the examination point of view. Here, we have discussed the UPSC EPFO EO/AO Indian Freedom Struggle Syllabus 2023.
British Expansion in India
Early Structure of the British Raj
Economic Impact of British Colonial Rule
Social and Cultural Developments
Social and Religious Reform Movements
Indian Response to British Rule
Factors leading to the birth of Indian Nationalism; Politics of Association
Origins of Modern Politics
Industrialization
Struggle for Independence Under Gandhi Ji.
Labour Movements During this phase.
UPSC EPFO Labour laws and Industrial Relations Syllabus 2023
The syllabus for Labour Laws and Industrial Relations is described below.  Aspirants should be familiar with each and every section of UPSC EPFO EO/AO Exam 2023.
Laws relating to Social Security

Employees' Provident Funds and Miscellaneous Provisions Act, 1952
Employees' State Insurance Act, 1948
Labour Welfare Fund Act (of respective States)
Payment of Gratuity Act, 1972
Employee's Compensation Act, 1923

Laws relating to Working Hours, Conditions of Services and Employment

Factories Act, 1948
Industrial Employment (Standing Orders) Act, 1946
Shops and Commercial Establishments Act (of respective States)
Contract Labour (Regulation and Abolition) Act, 1970
Inter-State Migrant Workmen (Regulation of Employment and Conditions of Service) Act, 1979
Weekly Holiday Act, 1942
National and Festival Holidays Act (of respective States) 1963
The Plantation Labour Act, 1951
The Mines Act, 1952
The Dock Workers (Safety, Health & Welfare) Act, 1986

Laws relating to Equality and Empowerment of Women

Equal Remuneration Act, 1976
Maternity Benefits Act, 1961

Prohibitive Labour Laws

Bonded Labour System (Abolition), Act, 1976
Child Labour (Prohibition & Regulation) Act, 1986
The Beedi and Cigar Workers (Conditions of Employment) Act, 1966
The Sexual Harassment at the Workplace (Prevention, Prohibition and Redressal) Act, 2013

Laws relating to Employment and Training

Apprentices Act, 1961
Employment Exchanges (Compulsory Notification of Vacancies) Act, 1959
Laws relating to Industrial Relations-

Industrial Disputes Act, 194

Laws relating to Wages

Minimum Wages Act, 1948
Payment of Wages Act, 1936
Payment of Bonus Act, 1965
UPSC EPFO Indian Polity & Economy Syllabus for EO/AO
Indian Polity and Governance-Constitution, Political System, Panchayati Raj, Public Policy, Rights Issues, etc. Economic and Social Development-Sustainable Development, Poverty, Inclusion, Demographics, Social Sector Initiatives, etc
UPSC EPFO General Accounting Principles Syllabus 2023 for EO/AO
The questions asked in General Accounting Principles for UPSC EPFO EO/AO Written Exam will be from the topics listed down below.
Principles of Accounting
Analyzing & Recording Transactions
Adjustments & Financial Statements
Completion of the accounting cycles
Subsidiary Ledgers
Special Journals.
UPSC EPFO General Mental Ability Syllabus 2023 for EO/AO
General Mental Ability is an important section for UPSC EPFO EO/AO Exam 2023. The topics that a candidate have to be thorough with are discussed here.
Number Systems
Percentage
Profit & Loss
Average
Ratio
SI & CI
Arithmetic questions.
UPSC EPFO Social Security In India Syllabus 2023 for EO/AO
What is Social Security?, History of Social security, Social Security in India, Social Security: Constitutional Provisions. And government schemes related to the topic. The candidates will also be asked questions about the related laws mentioned above.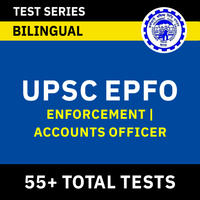 UPSC EPFO Exam Pattern For EO/AO
The exam pattern given here is for the post of Enforcement Officer/Account Officer. The written examination will be conducted across India in pen and paper mode. Only those candidates who are successful in the written stage will be called for the interview stage.The detailed UPSC EPFO EO/AO Exam Pattern is given here.
The total time given for the examination is two hours.
The questions will be objective type with multiple-choice of answers.
There will be negative markings and one-third of the marks will be deducted for every wrong answer.
The medium of the test will be both Hindi and English.
The questions will carry equal marks.
UPSC EPFO Minimum Qualifying Marks 2023
The candidates must note that as per the official notification, they must score minimum qualifying marks. Only then they will be considered for the next stage.
The minimum qualifying marks as per the UPSC EPFO EO/AO Notification are:
| | |
| --- | --- |
| Category |  Qualifying marks |
| General |  50 |
| OBC |  45 |
| SC/ST/PH |  40 |
UPSC EPFO EO/AO Marks Weightage
As per the official notification, the Recruitment Test (RT) and Interview carry weightage in the ratio of 75:25. Only the candidates shortlisted based on Recruitment Test (RT) qualify for the interview.