Mission Karmayogi for Civil Servants of India- There have been a major change in the training session for the civil servants of Indian government that will help them to meet new challenges of the society. Mission Karmayogi or National Programme for Civil Services Capacity Building (NPCSCB), will be governed by four new bodies which will be headed by the Cabinet Secretary. This program will be applicable for training civil servants from the rank of assistant section officer to Secretary, across the country. For this project, an Integrated Government Online Training (iGOT)-Karmayogi platform will be developed which will ensure proper and training of the officers so that they remain entrenched with in Indian culture while learning simultaneously the best practices. Read more to know complete details about Mission Karmayogi.  

Which bodies will be included?
The Mission Karmayogi will be sheered by four major and newly formed bodies which are as follows; 
Prime Minister's Public Human Resources Council
Capacity Building Commission
Special Purpose Vehicle- that will own and operate the digital assets and technological platform for online training, 
Coordination Unit
What is Mission Karmayogi?
Mission Karmayogi will be a new capacity building paradigm for training civil servants. The following are the agenda of this programme:
Prescribe Annual Capacity Building Plan for all departments and services
Monitor and implementation of Capacity Building Plan
Massive capacity building initiative to ensure efficient service delivery
To promote technology-driven learning pedagogy
To strengthen common foundations and remove the departmental silos
Setting benchmarks in learning for public servants
Democratization of learning to cover all categories.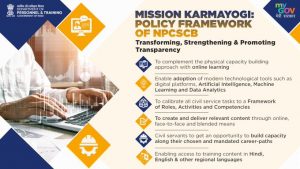 How will Mission Karmayogi make Civil Servants Future Ready?
The agenda is to give a strong foundation to the civil servants to serve the nation. This approval from the Union Cabinet will bring changes in the training methodology of Civil Servants. They will be made future ready as Mission Karmayogi targets the officers to become creative, constructive, imaginative, innovative, proactive, professional, progressive, energetic, enabling, transparent and technology-enabled. The main aim is to update the talent and providing equal opportunity for both personal and professional growth of the officials at all level. It will shift the focus of the civil servants from "Rule-Specific" to "Role'-Specific"
Mission Karmayogi: Rules-Based to Roles-based #AatmaNirbharBharat #CivilService4NewIndia pic.twitter.com/7RNbRnP8T2

— Prakash Javadekar (@PrakashJavdekar) September 2, 2020
The Home Minister Amit Shah in his tweet said "This holistic & comprehensive scheme will focus on individual as well as institutional capacity building". He also said that this mission is "A landmark reform for the 21st century which will end the culture of working in silos & bring out new work culture".
This reform will not only provide a mechanism for Govt functionaries to improve their own performance but also enable them to fulfill and live upto the aspirations of #NewIndia.

Modi govt is fully committed towards building of a future ready civil service. #CivilService4NewIndia

— Amit Shah (@AmitShah) September 2, 2020
"Capacity Building Commission will be set up which will harmonize training standards, create shared faculty & resources & will have a supervisory role over all training institutions so that there's common understanding of India's aspirations & development goals," said C. Chandramouli, Secretary.
Six Pillars of the National Programme for Civil Services Capacity Building
Policy Framework
Institutional Framework
Competency Framework
Digital Learning Framework iGOT-Larmayogi
The electronic Human Resource Management System
The Monitoring and Evaluation Framework
Mission Karmayogi to provide technology-enabled content to civil servants
This is a big breakthrough in the nation for training of civil servants. Mission Karmayogi will provide anytime-anywhere learning to train about 2.5 crore civil servants in India. The mission will be technology driven, keeping in mind the need of the hour and shall be supported by robust e-learning content with industry providing best-in-class content with Indian values. Mission Karmayogi will create continuous, frictionless, guided capacity building for all civil servants.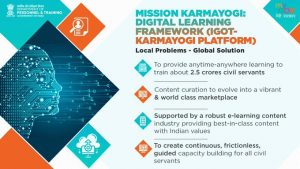 Mission Karmayogi will make a shift from rules-based to roles based approach
To serve the need of the hour and the nation adequately, National Programme for Civil Services Capacity Building will bring a shift in the human resource management from 'rules-based' to a 'roles-based' approach. This shall put great emphasis on the role of 'on-site learning' while complementing the 'off-site learning' methodology. Linking training and development of competencies of civil servants will be targeted through Mission Karmayogi.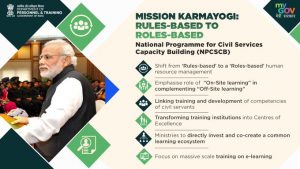 For more such interesting and latest information on what our government is bringing to make the system better; stay connected with Bankersadda.