SBI Clerk Salary- One of the factor that attracts lakhs of students to apply for SBI Clerk is the salary offered by it along with the perks. In this space we will be discussing the salary, perks, benefits that are enjoyed by a candidate once appointed as a SBI Clerk. The salary of SBI clerk is best in the market for this profile also along with the salary there are numerous benefits that are enjoyed by the candidate. This is one of the dream job for banking aspirant and here we will be discussing in details about one of the major factor i.e. salary that makes it the dream job of thousands of aspirants. 
SBI Clerk 2020: Salary 
As per the official notification of the SBI Clerk 2020, the total starting emolument for a candidate selected as a SBI Clerk payable at metro city is around 26000/- per month which includes Dearness Allowances and Other allowances at the current rate.
Pay Scale structure of an SBI Clerk is as given in the official notification- Rs.11765-655/ 3-13730-815/ 3-16175-980/ 4-20095-1145/7-28110-2120/ 1-30230-1310/1-31450.The starting Basic Pay is Rs.13075/- (Rs 11765/- plus two advance increments admissible to graduates)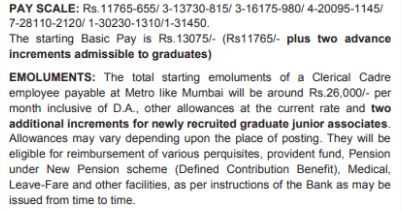 There is a provision of getting annual increment of Rs 655/- and after three years the basic salary of the candidate selected as SBI Clerk will be 13730 and after that 815/- rupees will be added in his salary as an annual increment for three years. The candidate will be getting basic pay of rs 16175/- after three year. Maximum basic salary receivable to SBI Clerk is 31450/-. 
Given below is the table representation of the information given above:
| | | |
| --- | --- | --- |
| Period | Basic Pay (INR) | Increment (INR) |
| For the First three years | 11,765 | 655 |
| For the next three years | 13,730 | 815 |
| Another 4 years | 20,095 | 2120 |
| For the next 7 years | 28,810 | 1310 |
| After 1 year | 31, 540 | – |
Start Your Preparation for SBI Clerk Mains 2020:
SBI Clerk- Take-Home Salary
The in-hand salary of a Candidate selected as SBI Clerk vary greatly from place of posting. A candidate appointed in metro cities like Mumbai and Delhi tends to get more salary than candidate posted in other less metropolitan cities. The take-home salary ranges from 20-25k. Given below is the salary slip of a candidate working in SBI Clerk to give you a more accurate idea.
Image Source: quora
SBI Clerk 2020: Allowances And Other Benefits
A candidate selected as SBI Clerk not only get handsome salary but also other benefits are also given to him. Given below is the table that gives the detail for SBI Clerk allowances that an employee during his service time can avail.
| | |
| --- | --- |
| Dearness Allowance (DA) | D.A is revised every 4 years and it  is based on the consumer price index (CPI). It tends to  increases when inflation is high and vice versa. |
| House Rent Allowance (HRA) | It largely depends on the place of the posting of the candidate. In metro cities  the HRA is higher. In the case of rural areas, the HRA is less. |
Apart from the above mentioned benefits, the SBI Clerk can also reimburse other allowances like furniture, telephone bills, travel allowance (For official purpose) etc.
Complete list of other benefits
SBI Clerk enjoys job Stability and security
SBI Clerk enjoys financially security
SBI Clerk enjoys flexible working hours (varies branch to branch)
SBI Clerk enjoys great work environment
SBI Clerk enjoys pension under new pension scheme
SBI Clerk enjoys medical coverage
SBI Clerk enjoys provident fund, etc
SBI Clerk 2020: Work Profile
The job role of SBI Clerk is very crucial and is of great responsibility. The candidate selected as an SBI Clerk is a single window operator. The mains job profile involves the first person to be contacted for any inquiries or bank related guidance. Given below are some of the role that a SBI Clerk play:
It is job of an SBI Clerk to deal with the front desk work and customer handling operations.
SBI Clerk is also responsible at the single window operations like managing inquiry corners, withdrawal, managing receipts etc.
It is the responsibility of a SBI clerk to deal with the opening of new accounts, cash collection, issue of bank statements and handling emails & delivery.
SBI Clerk : Career Growth 
There are  multitudinous growth opportunities for SBI Clerk. Depending upon the skills and experience a candidate selected as SBI Clerk may reach as high as General Manager. Though, based on the higher posts, there will be certain eligibility criteria they must meet. There are various  promotional exams or interviews that a SBI Clerk must attempt as per the bank requirement.
SBI Clerk get promoted to the post of Trainee Officer which is equivalent to Probationary Officer after working for 3 years and clearing the written exam and interview. There are several exams that are conducted which one can give after starting their career as SBI Clerk, like: JAIIB and CAIIB certification exam which is a huge opportunity to get an edge over others.
For more informative and interesting articles, stay tuned to bankersadda!
Get a clear idea about the SBI Clerk exam pattern and syllabus. You can also check SBI Clerk Study Plan for making your preparations in the right direction.