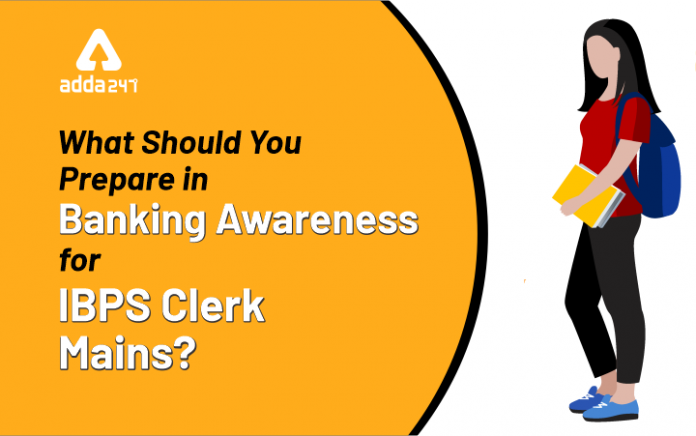 Banking Awareness For IBPS Clerk Mains: General awareness is the major section which is a hurdle for many aspirants in the IBPS Clerk mains due to vast syllabus. GA comprises of Current Affairs, Banking Awareness and Static Awareness. One needs to be very well versed with the Banking awareness terms as questions on this will be there in the exam to test your banking knowledge. Banking Awareness part of GA section comprises of some important topics to be prepared for IBPS Clerk mains exam.
You may also like to read:
IBPS Clerk Mains 2019-20: Top 20 Important GA Questions
IBPS Clerk Mains General Awareness Power Capsule 2019: Download Now
Check the most important topics to be prepared for Banking Awareness in IBPS Clerk Mains Exam:
Negotiable Instrument
Capital and Money Market
RBI and its Monetary Policy
BASEL Norms
Banking and Financial Abbreviations
Bank acquisition and mergers
Bank MoU's with other companies: like Insurance companies
New schemes launched by banks: like: Suvidha Plus Home Loan, FD Health etc.
GDP growth rate of India by Major Financial Institutions like World Bank, Asian Development Bank etc.
Payment System of India like BHIM UPI (introduction of new languages), PPI's.
Chairman of Public and Private Sector Banks.
Apart from the important topics mentioned above for your Banking Awareness preparation, do not forget to prepare from the GA questions asked in the recent banking examination. Check the GA questions asked in bank exams.
GA questions asked in Banking Awareness Examination
General Awareness Questions Asked In IBPS PO Mains 2019
GA Question Asked In IBPS SO Prelims (Rajbhasha Adhikari and Law Officer) 2019
GA Questions Asked in LIC Assistant Mains: 22nd Dec'2019 (01st Shift)
You can aslo download
Download GA Power Capsule for IBPS Clerk Mains 2019 (Banking & Static)