Why Should You Apply for IDBI Bank?:  The IDBI Assistant Manager is a managerial level post offered by the Industrial Development Bank of India (IDBI). With the policies like financial inclusion and rural development mandate, the financial sector has got a tremendous career opportunity, especially the sector like banking, which has been growing at a rapid rate. The candidates who aspire to make a career in the banking sector for them IDBI AM & Executive is one of the best career options. In this article, we have discussed why should you apply for IDBI bank.
IDBI AM Career Growth
There have been great career opportunities in IDBI candidates can check the career growth and promotion in IDBI AM  post below.
IDBI Assistant Manager (Grade A)
Manager (Grade B)
Assistant General Manager (Grade C)
Deputy General Manager (Grade D)
General Manager (Grade E)
Chief General Manager (Grade F)
Executive Director
IDBI Executive Career Growth
After getting selected as IDBI Executive, candidates will be appointed for a contract period of one year. On the basis of performance, this contract period may be extended for two more years. After completion of three years, candidates might be promoted to the position of Assistant Manager based on the internal exam and any other selection process in the IDBI Bank. It will be done keeping in mind your performance in the last three years, appraisal report, etc.
Why Should You Apply for IDBI Bank?
IDBI has released the official recruitment notification for the recruitment of IDBI Assistant Manager & IDBI Executive 2022. This is one of the most coveted jobs for those who want to build a career in the banking sector. If you are one of those aspirants who are preparing for the banking and financial sector exam, well then you must know these things about IDBI AM & Executive jobs before you get confused.
One of the most important reasons that candidates get attracted towards the IDBI is the scope for growth and promotion. Once a person gets employed in IDBI as an AM or Executive, there are various opportunities for him to grow and get promoted to higher posts during their course of work.
There is no percentage criteria in IDBI AM or Executive recruitment, A candidate should have completed graduation from any stream from a recognized university can apply for IDBI AM or Executive post. So If you are a graduate/fresher or have just completed your graduation then you must apply for IDBI.
Everyone put his effort in order to receive emoluments in return. This is the main reason for preparing and applying for IDBI. IDBI is one of the best institutions which offers a handsome salary package even at the starting of the job.
IDBI offers employees the best work culture where everyone is ready to help. It makes an employee a member of an IDBI family. Here you get to learn new things that one can apply in real life as well.
IDBI has fasted growth and promotion opportunities, A person joining as IDBI AM can reach to the Executive Director level in the IDBI. There is no restriction on promotion in IDBI Bank.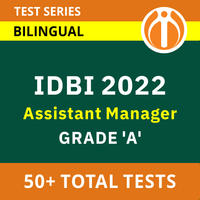 Recent Posts