Why Should you Attempt JAIIB & CAIIB
All the Bankers may have heard about the JAIIB & CAIIB Exams. The Indian Institute of Banking and Finance(IIBF) conducts flagship courses JAIIB(Junior Associate of the Indian Institute of Bankers) & CAIIB(Certified Associate of the Indian Institute of Bankers) for the Banking and Financial sector employees. Qualifying both JAIIB and CAIIB exams will help an employee grow professionally in terms of grasping banking procedures and career progression, but it will also make the bankers confident, mature, and will provide a rich experience. The employees must appear for the JAIIB and CAIIB Examination and the reason to attempt JAIIB & CAIIB is discussed in the article below.
Benefits of JAIIB & CAIIB
JAIIB and CAIIB are promotional-driven exams and in banking and finance JAIIB is similar to matriculation and CAIIB is analogous to Graduation. The monetary as well as non-monetary benefit after qualifying JAIIB and CAIIB Exam are discussed below:
Following the approved method followed by the Indian Banks' Association (IBA), you will be entitled for an incentive if you pass and qualify in the JAIIB and CAIIB examinations. The monetary advantages are as follows:
As a Clerk in Bank: 
If you qualify JAIIB: 1 Increment in Salary
If you qualify CAIIB: 2 Increment in Salary
If you pass the JAIIB Examination, you will get one increment, and if you pass the CAIIB Examination, you will receive two increments as per the current pay scale.
As an Officer in Bank:
If you qualify JAIIB: 1 Increment in Salary
If you qualify CAIIB: 1 Increment in Salary
After qualifying the JAIIB and CAIIB exams, an officer working for a nationalized bank is entitled to one increment each.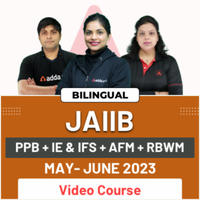 Banking Knowledge: You will learn everything there is to know about banking in India, as well as other technical elements of the industry. This will also assist you in more successfully executing your tasks and using what you've learned in your daily banking operations.
Promotion: These Exams are given a lot of weight in promotional interviews, so if you pass JAIIB and CAIIB, you'll have a better chance of being promoted. You get an advantage over other applicants.
Professional Roles: After qualifying JAIIB/CAIIB, Bankers can get posting in Professional/Specific fields like Rural Banking, Retail Banking, Treasury, Forex etc.