BOI Credit Officer Syllabus 2022: Syllabus and exam pattern are very important to understand so that candidates can prepare well for their online examination. It helps in covering all the important aspects and topics which can be asked in the examination. Bank of India has released admit card for 696 vacancies for officers in different grades. The Bank Of India will compile a merit list based on the written tests. As a result, applicants must obtain the BOI Credit Officer Syllabus and complete each topic before the test. If you complete the entire syllabus, you will undoubtedly obtain a high test score.
BOI Credit Officer Admit Card 2022 Out: Click Here to Download
BOI Credit Officer Syllabus & Exam Pattern 2022
BOI Credit Officer Syllabus & Exam Pattern 2022 is quite important when studying for the written exam because no one can begin their preparation without a syllabus & exam pattern. Aspirants can easily obtain the minimum required marks for the test by studying the curriculum. Obtaining the Bank Of India Credit Officer Syllabus 2022 simplifies your preparation. The Professional Knowledge, English Language and General Awareness with Special Reference to the Banking Industry are all covered in the BOI Credit Officer Exam Pattern 2022. To assist aspirants, we are providing the Bank Of India Officer Syllabus & Exam Pattern 2022 in table format on this post.
BOI Credit Officer Syllabus 2022
BOI Credit Officer syllabus for the exam comprises questions from three sections: Banking awareness in general, with an emphasis on banking, English language, and professional understanding (Financial Management). Many banking applicants find English to be a nightmare, yet it is possible to score well if well prepared. For the General Awareness part, you must be up to date on current events and have solid financial knowledge. Candidates who are preparing for the Bank of India 2022 exam can check the section-wise syllabus given below
English Language
Reading Comprehension
Error detection
Para jumble
Cloze test
Fillers
Vocabulary based questions
General Awareness With Special Reference To Banking Industry
National and International current affairs
Important national & international organization & their headquarter
Important days and their themes
Banking reforms
Latest acts related to banking
Latest circulars of RBI
Priority sector lending (PSL)
Regulatory bodies like SEBI, NABARD and RBI
Basel Norms
Latest mergers and MOUs of banks & financial institutions
Important Committees
Credit Rating Agencies
SARFESI Act
The latest news related to Nonperforming assets
Professional Knowledge
1. Credit Management in Banks
Screening of Applications-Appraisal of Credit-Sanction Limit- Post Sanction Compliance – Monitoring Supervision – Review- Government Policies for Credit Extension- Credit Institutions- Principles of Good Lending- Borrower Study and Bankers Opinion- Credit Policy by Banks- Government Regulation of Credit -Prudential Norms.
2. Over View of Credit Policy and Loan Characteristics
The Credit Process –Characteristics of Different Types of Loans- Evaluating Commercial Loan Requests – Financial Statement Analysis- Cash Flow Analysis- Projections-Management of the Firm and other Factors -Feasibility Study – Fundamental Credit Issues – Credit Analysis-Different Types of Borrowers – Balance Sheet Analysis for Lending – Forms of Advances Secured and Unsecured Advances- Short Term and Long-Term Advances.
3. Evaluating consumer loans
Types- Credit analysis of consumer loans- Risk-return analysis of consumer loans- Customer profitability analysis and loan pricing- Fixed Vs floating rates
4. Loan and Advances Against Pledge
Hypothecation- Mortgage – Lien- Advances Against Goods- Document to Title to Goods – Life Insurance Policies – Stock Exchange Securities-Fixed Deposit Receipts – Book Debts- Supply Bills- Real Estates – Advance Against Collateral Securities
5. Agricultural Finances and Retail Lending
Crop Loans- Crop Insurance Schemes- Dairy- Sericulture- Poultry- Animal husbandry – Horticulture – Kissan Credit Cards – NABARD Initiatives – Lead Bank Schemes – Retail Banking Advances – Concept – Retail Banking Products – Consumer Credit Financing.
6. NPA Management 
Introduction- Identification of NPAs- Asset Classification- Prudential Norms- Capital Adequacy – International Banking Regulation-Basel Norms – Asset Classification Provisioning – Effect of NPA on Profitability – Assessment Procedure- Pre-sanction Appraisal – Post Sanction Supervision- Monitoring Systems for existing and likely NPAs-Tools to manage NPAs -Compromise Scheme, Lok Adalat, Debt Recovery Tribunals, Wilful Defaulters, SARFAESI Act, Asset Reconstruction Companies-CIBIL
BOI Credit Officer Syllabus & Exam Pattern 2022 in Hindi
BOI Credit Officet Exam Pattern 2022
As per the official notification released, Selection will be through online test and/or GD and/or personal interview, depending on the number of applicants/eligible candidates. Candidates can check below the Bank of India Exam Pattern 2022 from the table provided below.
Name of The Section
Maximum Marks
Duration
English Language
50
Composite Time Of 150 Minutes
Professional Knowledge
100
General Awareness with special reference to
Banking Industry
25
BOI Selection Process 2022 
The candidates who will apply for Bank of India recruitment 2022 will be selected on the basis of two stages
Online Examination
Interview
Bank of India Interview Round
As per the official notification if the Bank of India conducts the online examination as well as the interview then the weightage of the online examination and interview will be 80:20. The combined final scores of candidates shall be arrived at on the basis of total scores obtained by the candidates in the Online Examination (marks obtained in General Awareness with special reference to Banking Industry and Professional Knowledge paper) and Interview.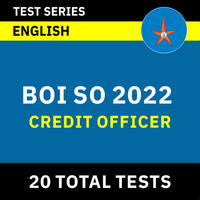 Also Check: Bank of India Syllabus 2022
FAQs: BOI Credit Officer Syllabus 2022
Q. What is the BOI Credit Officer syllabus 2022?
Ans The Bank of India syllabus 2022 is given in the article above
Q. Is there any negative marking in the Bank of India recruitment 2022?
Ans Yes there is a negative marking of 0.25 marks in the Bank of India recruitment 2022.