COVID-19 Hotspot District in India: As updated on 18th April 2020, the number of Coronavirus cases has increased to 14,707 all over India. Any state or district that has reported 6 or more active cases is kept in the list of hotspot areas and will be subjected to harsh lockdown rules by the Central government. Even after 21 days of the lockdown, the cases of coronavirus was increasing day-by-day which compelled the government to extend the lockdown and is now announced till 3rd May 2020. During this period, the government has decided to differentiate the states according to the active number of cases in their areas and calling it COVID-19 hotspot areas. 
Practice with,
Coronavirus Hotspot District in India
Declaring any area as an active hotspot will reduce the community transmission of the Corona Virus and people with coronavirus can be traced more easily. The Union Health Ministry of India has announced that the districts across the country will be categorized into three zonal systems to identify the coronavirus COVID-19 hotspots district in India in order to efficiently manage the fight against coronavirus pandemic. The COVID-19 hotspot areas would be under a curfew-like situation.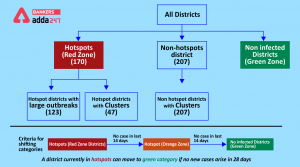 COVID-19 Hotspots in India
State-wise List of Areas in Red Zone with large outbreaks
| | |
| --- | --- |
| Andhra Pradesh | Kurnool, Guntur, Spsr Nellore, Prakasam, Krishna, YSR, West Godavari, Chittoor, Visakhapattanam, East Godavari, Anantpur |
| Bihar | Biwan |
| Chandigarh | Chandigarh |
| Chhattisgarh | Korba |
| Delhi | South Delhi, Shahdara, South East Delhi, West Delhi, North Delhi, Central Delhi, East Delhi, New Delhi, South West Delhi |
| Gujarat | Ahmedabad, Vadodara, Surat, Bhavnagar, Rajkot |
| Haryana | Nuh, Gurgaon, Faridabad, Palwal |
| Jammu and Kashmir | Srinagar, Bandipora, Baramulla, Jammu, Udhampur, Kupwara |
| Karnataka | Bengaluru Urban, Mysuru, Belagavi |
| Kerala | Kasargod, Kannur, Eranakulam, Malappuram, Thiruvananthapuram, Pathanamthitta |
| Madhya Pradesh | Indore, Bhopal, Khargone, Ujjain, Hoshangabad |
| Maharashtra | Mumbai, Pune, Thane, Nagpur, Sangli, Ahmednagar, Yawatmal, Aurangabad, Buldhana, Mumbai suburban, Nasik |
| Odisha | Khurda |
| Punjab | Sasnagar, SBS Nagar, Jalandhar, Pathankot |
| Rajasthan | Jaipur, Tonk, Jodhpur, Banswara, Kota, Jhunjhnu, Bhilwara, Jaisalmer, Bikaner, Jhalawar, Bharatpur |
| Tamil Nadu | Chennai, Tiruchirapalli, Coimbatore, Erode, Tirunelveli, Dindigul, Villupuram, Namakkal, Theni, Chengalpattu, Tiruppur, Vellore, Madurai, Tutiporin, Karur, Virudhnagar, Kanniyakumari, Cuddalore, Thiruvallur, Thivarur, Salem, Nagapattinam |
| Telangana | Hyderabad, Nizamabad, Warangal urban, Ranga Reddy, Jogulambagadwal, Medchal Malkajgiri, Karimnagar, Nirmal |
| Uttar Pradesh | Agra, Gautam Buddh Nagar, Meerut, Lucknow, Ghaziabad, Saharanpur, Shamli, Firozabad, Moradabad |
| Uttarakhand | Dehradun |
| West Bengal | Kolkata, Howrah, Purba Mednipur, 24 Paragana North |
What is allowed in COVID-19 Hotspot Districts in India?
Groceries and other essentials will be ordered to homes upon their online order

Ambulances with special permission in case of a medical emergency will be allowed in the hotspot area

Regular Sanitization of the area

Rigorous door-to-door monitoring to cope with the dangerous situation. 
Restrictions to the COVID-19 hotspot in India:
To curb the spread of the Corona Virus in the states where the number of cases is rising to date, the government has planned to put more restrictions and these restrictions have to be imposed on the people with no expectations. As the malls and restaurants are shut from the beginning of lockdown, however, if any district is named as hotspot area, then further restrictions are imposed which are as below: 
Common People are not allowed to step out of their houses, essential commodities and daily necessities including medicines will be delivered to the doorstep

Vegetable and Fruit Markets will be sealed completely for people to enter

Entry and Exit from any sealed-off area will be counted as a punishable offense

The entry of any social media persons in the sealed zone will not be tolerated, only government photographers will be allowed entry in the sealed zone only after permission. 

Every house in the sealed locality will be surveyed and sanitized timely to control the spread of the diseases. 
COVID-19 State-wise Red Zones with Cluster Outbreak:
| | |
| --- | --- |
| Andaman and Nicobar | South Andamans |
| Assam | Golaghat, Marigaon, Nalbari, Goalpara, Dhubri |
| Bihar | Munger, Begusarai, Gaya |
| Chhattisgarh | Raipur |
| Delhi | North West Delhi |
| Gujarat | Patan |
| Haryana | Ambala, Karnal |
| Himachal Pradesh | Solan, Una, Sirmaur, Chamba, Kangra |
| Jammu and Kashmir | Shopian, Rajouri |
| Jharkhand | Ranchi, Bokaro |
| Karnataka | Dakshina Kannada, Bidar, Kalaburagi, Bagalkot, Dharwad |
| Kerala | Wayanad |
| Madhya Pradesh | Morena |
| Maharashtra | Kolhapur, Amravati, Palghar |
| Odisha | Bhadrak |
| Punjab | Mansa, Amritsar, Ludhiana, Moga |
| Rajasthan | Udaipur |
| Telangana | Nalgonda |
| Uttar Pradesh | Bulandshahr, Sitapur, Basti, Baghpat |
| Uttarakhand | Nainital, Udham Singh Nagar |
Click Here to Download COVID-19 Hotspots List in India
The state-wise list of confirmed COVID-19 cases in India till 18 April 2020 is depicted below:
| State/UT | | Active | Recovered | Deceased |
| --- | --- | --- | --- | --- |
| | 3,320 | 2,788 | 331 | 201 |
| | 1,707 | 1,593 | 72 | 42 |
| | 1,355 | 1,216 | 70 | 69 |
| | 1,323 | 1,025 | 283 | 15 |
| | 1,282 | 1,080 | 183 | 19 |
| | 1,272 | 1,136 | 88 | 48 |
| | 849 | 753 | 82 | 14 |
| | 766 | 561 | 187 | 18 |
| | 603 | 546 | 42 | 15 |
| | 395 | 138 | 255 | 2 |
| | 371 | 270 | 88 | 13 |
| | 328 | 281 | 42 | 5 |
| | 287 | 222 | 55 | 10 |
| | 227 | 136 | 88 | 3 |
| | 211 | 167 | 30 | 14 |
| | 85 | 47 | 37 | 1 |
| | 60 | 38 | 21 | 1 |
| | 42 | 33 | 9 | – |
| | 38 | 20 | 16 | 2 |
| | 36 | 12 | 24 | – |
| | 34 | 24 | 9 | 1 |
| | 32 | 30 | – | 2 |
| | 21 | 12 | 9 | – |
| | 18 | 4 | 14 | – |
| Andaman and Nicobar Islands | 13 | 2 | 11 | – |
| | 11 | 10 | – | 1 |
| | 7 | 1 | 6 | – |
| | 7 | 6 | 1 | – |
| | 2 | 1 | 1 | – |
| | 2 | 1 | 1 | – |
| | 1 | – | 1 | – |
| | 1 | 1 | – | – |
| | 1 | 1 | – | – |
| | 14,707 | 12,155 | 2,056 | 496 |
Click Here to Register for Bank Exams 2020 Preparation Material
Practice With,