The General Awareness section constitutes a major part of a competitive examination and needs your undivided attention. The questions which are asked in the exam are generally framed on National News, International News, State News, Sports, Awards, Summits, Schemes, Books & Authors, Ranks & Reports, Important Days, Economy, Defence, Science & Technology etc. To excel in this section of the competitive examinations you are required to cover the above area.

To complement your preparation for General Awareness section of the upcoming exams like SBI Clerk Mains and RBI Assistant Mains we are providing you General Awareness Quiz of 3rd July 2020 covering the following topics: HDFC Bank, Prithvi-II, International Finance Corporation, FSSAI, Mauritius.
Q1. Walmart India, in partnership with HDFC Bank, launched a co-branded credit card exclusively for members of its Best Price Modern Wholesale "B2B Cash & Carry" stores, offering "free credit up to 50 days. Where is the headquarters of HDFC bank?
(a) Kumbakonam, Tamil Nadu
(b) Mumbai, Maharashtra
(c) Mangaluru, Karnataka
(d) Thrissur City, Kerala
(e) Bangalore, Karnataka
Q2. India successfully test-fired its indigenously developed surface-to-surface nuclear-capable Prithvi-II missile off Odisha coast. In which of the following year DRDO was formed?
(a) 1960
(b) 1959
(c) 1958
(d) 1957
(e) 1956
Q3. The International Finance Corporation (IFC), a unit of the World Bank Group, has anchored an investment round of $200million in Mahindra & Mahindra Financial Services Limited (MMFSL). Where is the headquarters of World Bank is situated?
(a) Lausanne, Switzerland
(b) Dubai, UAE
(c) Geneva, Switzerland
(d) Brussels, Belgium
(e) Washington DC, US
Q4. The Mumbai Central station of Railways was conferred with the 'Eat Right Station' certification with four stars rating by the Food Safety and Standards Authority of India (FSSAI), as a part of 'Eat Right India' movement launched last year. Where is the headquarters of Food Safety and Standards Authority of India (FSSAI) is situated?
(a) Kolkata
(b) Mumbai
(c) New Delhi
(d) Dehradun
(e) Lucknow
Q5. The National Assembly of Republic of Mauritius has unanimously elected Prithvirajsing Roopun, as new President of the island nation, a largely ceremonial post. Who among the following is the present Prime Minister of Mauritius?
(a) Anerood Jugnauth
(b) Paul Berenger
(c) Navin Ramgoolam
(d) Seewoosagur Ramgoolam
(e) Pravind Kumar Jugnauth
Solutions
S1. Ans.(b)
Sol. HDFC (Housing Development Financial Corporation) Bank Limited is an Indian banking and financial services company headquartered in Mumbai, Maharashtra.
S2. Ans.(c)
Sol. The DRDO was established in 1958 by amalgamating the Defence Science Organisation and some of the technical development establishments.
S3. Ans.(e)
Sol. The World Bank Group headquarters building in Washington, D.C.
S4. Ans.(c)
Sol. The FSSAI has its headquarters at New Delhi.
S5. Ans.(e)
Sol. Pravind Kumar Jugnauth is a Mauritian politician who is the current Prime Minister of Mauritius.
To attempt the complete quiz refer to the links given below:
You may also like to read: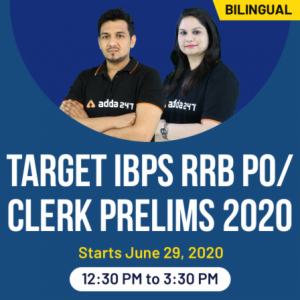 Watch the Current Affairs Show of 3rd of July 2020:
Visit Achieversadda.com and participate in discussions with other aspirants and achievers. Get answers to your queries and connect with others on Achieversadda.com