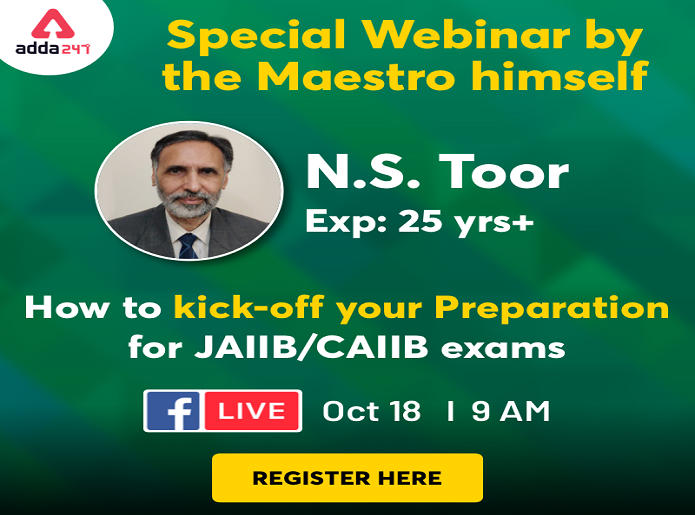 The tentative exam date for JAIIB/CAIIB Exams are declared and it is scheduled to be held in Nov-Dec 2020. All the aspirants must have started the preparation for these exams. To help these students, Adda247 is organising the special webinar "How to Kick-off Your Preparation for JAIIB/CAIIB Exams in Nov-Dec 2020" by N.S.Toor sir on 18 October 2020 at 9 AM.


About Course:
" Best Offer I 20% OFF on JAIIB, CAIIB Video study material by N.S.Toor I Use Code: ADDA20 "
This Complete CAIIB Video Course for ABM, BFM, and Retail Banking is developed by India's Best Faculty – Mr.N.S.Toor (Exp: 25yrs+) and is regularly updated with the latest videos. This course is useful to crack CAIIB Exam.

Course Highlights:
What is CAIIB?
CAIIB stands for Certified Associate of Indian Institute of Bankers.

It is a flagship course offered by the Indian Institute of Banking and Finance (IIBF).

CAIIB is attempted by Bankers/members

Clearing CAIIB will earn you increments in Banks and consequently will fetch you an increased salary. In some banks even for promotion, there is some weight for CAIIB. It will enhance your knowledge which in turn will help you even in your day to day work.
Subject Covered
About the Faculty
N S Toor
M.Com, LLB, MA-Eco, CAIIB

More than 1Lakh candidates have been qualified and promoted under the guidance of N.S.Toor

25+ years of experience in training and mentoring candidates for various bank promotional examinations and also part of training the bank officers across India.
Validity: 3 Months
*You will get a mail after purchasing the batch for login.
*No Refunds will be given in any case and registration can be canceled by Adda247 for any anti-batch activity.
JAIIB Video Lectures for Accounts, LRB, PPB | Combo Pack by Adda247


Recorded Videos
English Medium only
Complete Syllabus
BUY NOW
N.S.Toor Sir, a well known name in the field of Banking exam and has authored several banking books in India including Handbook of Banking Information (in its 40th edition), Balance Sheet Analysis, Bank Credit Management, Credit Risk Management.
This is a must-attend webinar for all JAIIB/CAIIB aspirants.
N.S.Toor Sir's Webinar Details
Venue: FB live on "JAIIB-CAIIB STUDY MATERIALS" page by Mr. Murugan
Webinar By: N.S.Toor Sir
Date: 18th Oct 2020 (Sunday)
Time: 9:00am