As the new year brings new opportunities, you need to set aside your casual attitude of yours toward the competitive examinations. Competitive examinations need full dedication and commitment. Everyone has only 24 hours in a day and what makes the difference is how he/she utilizes these hours. Students, in this era of technology, when the world is getting more virtualized, it is simply unreasonable to think that it's difficult to crack bank exams. In this article, we will be discussing every important thing that may help you make headway in your career in the Public Sector Banks.
Every competitive examination demands a lot of hard work. The banking examination is the most tried and tested examination. The first and foremost thing a beginner can go through with the type of examination conducted for bank examination. Then the new aspirant should choose which exam to focus on and search for the syllabus for the same. Looking through the syllabus and previous year's questions is a must when preparing for a competitive examination as it not only provides you with an overall analysis of the examination but also helps in practicing questions. You can prepare for the banking examination by self-study and online materials. There are a lot of online platforms that can provide every information banking examination with study material. You can look for our online platform bankersadda.com and our YouTube channel Adda247 for your ease. We have come up with everything a new aspirant seeking to build his/her career in the banking sector is looking for. Read the full article for more details.
Every person has a different strategy to prepare for the baking exams. Some of them successfully sail through their desired goal while some miss hitting the same. Aspirants are more rerouted towards this sector because of the lucrative salary packages, Other benefits apart from the salary, and timely progression. Let us dive into the detailed and organized strategy to prepare for bank exams in 2020.
Let us have a look at the basic structure of the exam pattern in banking exams.
| | |
| --- | --- |
| S. No | Subjects |
| 1 | Reasoning Ability |
| 2 | English Language |
| 3 | Quantitative Aptitude |
| 4 | General Awareness (Only in mains) |
It is to be noted that every banking examination has now introduced sectional timing and sectional cut-off. Before starting your preparation, keep these points in mind also negative marking is a major factor in the bank exams.
Generally, prelims are qualifying in nature, and marks of mains and interviews make the merit list. A candidate has to qualify and ace all stages to get the desired position in banks. Also, prelims and mains are generally held on the online mode method.
After having grasped the details of the exam patterns, the next step is to know about the detailed syllabus for the bank exam. Generally, the syllabus is not provided by the organizing authority. Aspirants can check the syllabus of different bank exams on bankersadda.com
What After Knowing the Detailed Exam Pattern and Syllabus?
Identify the topics you feel you are good at after knowing the exam pattern and syllabus.
Set small goals. Make sure each goal is realistic and achievable.
After the notification, students get 2-3 months for the preparation. Make proper plans for the same and start without waiting for the official news.
Don't procrastinate. The more you wait for the official notification to be out the more you lose your time for studies.
Clear your basic concepts first before moving on to the advanced level. You can practice from daily quizzes being provided on bankersadda.
Try not to restrict your preparation to basic theory only. Move on to the advanced level as soon as you are done with the basic concepts.
Do not go for the mock test in the beginning. Learning, practicing, and then analyzing this should be the proper hierarchy to prepare for any bank exam.
Once you are done with the syllabus and able to solve even complex and tricky questions, go for the mock test.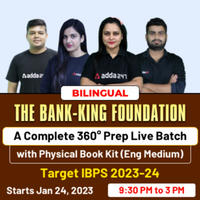 Strategy To Prepare For Bank Exams
Strategy: A well-planned strategy can help you to easily crack the banking examination. You can start by having a look at the syllabus and previous year's question papers to make a timetable for the portions which are important or you are weak at. You can work on your strengths to leave no stone unturned. Fix 1-2 hours for every subject which will appear in your exam. Do not miss to make a timetable according to the time you have. Practicing as much previous year paper and mocks as you can. Bankersadda has memory-based questions and mock tests for every bank examination. You must go through them once.
Time management: This is the main key to opening the door of a bank job. After reading the pattern of the desired exams, you will know that this exam has a fixed timing and is in online mode most of the time. So, as the time limit ends, the test shuts down automatically. Also, it is not easy to win at mathematics and reasoning without time management. So, try to practice mock papers in the time fixed by the respective banking examination. Try to solve as many tests as possible and rectify your mistakes. This will help in improving your speed, accuracy, and selection.
Consistency: Do you believe in the power of consistency? You should!!
When you plan for cracking the bank examination, try to be regular in your efforts. If you will skip a single day without reading or practicing, you will lose a chance. So, stick to your daily schedule and do not ignore the importance of consistency.
Keep yourself motivated: Motivation is something that should come from inside when you are preparing for a banking examination. Do not get distracted. For a few months, struggle for making your career bright and you will see the positive results. Always remember "you can do it" and you will be halfway there.
For more bank-related information, keep reading our articles on Bankersadda. We are dedicated to helping you in every way possible. Student tightens up their belt and start focusing on the examination.