IB Syllabus 2022: The first step that a candidate should take to qualify for any competitive Exam is to understand the syllabus and exam pattern. The candidates preparing for the IB Recruitment 2022 for the posts of Security Assistant and Multi-Tasking Staff should be aware of the IB Syllabus 2022 along with the Exam Pattern. Aspirants should go through the syllabus and make a proper strategy for their preparation. In this article, candidates can check the IB Detailed SA and MTS Syllabus and Exam Pattern 2022.
IB Syllabus 2022 & Exam Pattern
IB Syllabus 2022 and Exam Pattern are the essential tools for the IB Exam going to be conducted for the post of SA and MTS. IB Syllabus 2022 gives an idea regarding the topics to be prepared for the examination. The IB exam pattern 2022 will provide candidates with an overview of the number of sections to be prepared along with the marking scheme and the number of questions asked in the exam. Here we have discussed the IB Syllabus 2022 in detail for SA and MTS mentioning the topics important from the examination point of view.
IB Syllabus 2022
The candidates preparing for the posts of Security Assistant and MTS should be updated with every single topic included in the IB Detailed SA and MTS Syllabus 2022. The Tier-1 Exam of the Intelligence Bureau will have 5 subjects. The topic-wise detailed IB Syllabus 2022 is mentioned below.
General Awareness
National & International Current Affairs
Important Books & Authors
Capital and currency of countries
Important schemes and projects
National parks & wildlife sanctuaries
Rivers and dams
Awards & Honors
Temples and Monuments
Quantitative Aptitude
Number System
Average
Age
Percentage
Ratio & Proportion
Mixture and Allegation
Partnership
Time, Speed, and Distance
Time & Work
Boats & Stream
SI & CI
Probability
Permutation & Combination
Trigonometry
Algebra
Mensuration
Geometry
Profit & Loss
Logical/ Analytical/ Numerical Ability/ Reasoning Ability
Volume
Ages
Factors
Percentage
LCM & HCF
Ratios
Mensuration
Simple interest & compound interest
Time & work
Profit & loss
Average
Missing number
Price & Expenditure Problems
Fractions
Time & distance
Number series
Puzzle
Input-Output
Statements & Assumptions
Order & Ranking
Odd One Out
Directions
Alphanumeric Series
Reasoning Analogies
Blood Relations
Calendars
Artificial Language
Clocks
Coding-Decoding
Decision Making
Data Sufficiency
Statement and conclusions
English Language
Reading Comprehension
Synonym and Antonym
Misspelt words
Idioms and phrases
Sentence Improvement
Active & Passive Voice
Error detection
Fill in the blanks
Phrase replacement
One-word substitution
Single/ Double Fillers
Para-Jumble Sentences
General Studies
Indian Polity
Modern History
Ancient History
Medieval history
Indian Geography
World Geography
Indian Economy
General Science
IB Exam Pattern 2022
Along with the IB Syllabus 2022 candidates should also be aware of the Exam Pattern. Through the Exam Pattern aspirants get an idea of number of questions asked, time duration for the paper, marks allotted for each tier, etc. The main highlights of IB Exam Pattern 2022 are:
The selection process for IB Recruitment 2022 include objective exam, descriptive exam, and Interview.
The Tier-1 and Tier-2 will be common for both SA and MTS.
For the post of Security Assistant there will be spoken ability test that will be part of Tier-2 but it will be examined at the time of Interview/Personality Test(Tier-3).
Tier-1 Exam will be objective type and Tier-2 will be descriptive type.
Tier-1 will be online and Tier-2 will be offline.
The Tier-2 exam is qualifying in nature. The qualifying marks in Tier-II is 20 out of 50 for SA and 16 out of 40 for MTS.
Tier-1 Exam Pattern
Name Of The Section
Number Of Questions
Marks
Duration Of Exam
English Language
20
20
60 Minutes(1 Hour)
Quantitative Aptitude
20
20
General Awareness
20
20
General Studies
20
20
Logical/Analytical/Numerical Ability and Reasoning
20
20
Total
100
100
Tier-2 Exam Pattern
Papers
Maximum Marks
Duration Of Exam
Translation of a passage of 500 words from local
language/dialect to English and vice versa
40
1 Hour
Spoken Ability(For SA Only)
10
Tier-3 Exam Pattern
| | |
| --- | --- |
| Test | Maximum Marks |
| Interview/Personality Test | 50 |
Latest Govt Jobs Notifications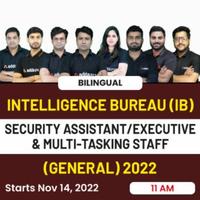 FAQs: IB Syllabus 2022
Q.1 What is the IB Syllabus 2022 for Security Assistant and MTS?
Ans. The detailed IB Syllabus 2022 for Security Assistant and MTS is mentioned in the article above.
Q.2 What are the topics included in the General Studies Subject in the IB Syllabus 2022?
Ans. The topics included in the General Studies Subject in the IB Syllabus 2022 are Indian Polity, Ancient History, Modern History, General Science, etc.
Current Affairs