IBPS RRB Preparation Tips 2023
Institute Of Banking Personnel Selection conducts IBPS RRB Exam every year to recruit candidates for the position of Probationary Officer, Office Assistant, Officer Scale II, and III. As a large number of candidates have filled the application form for 8938 vacancies of IBPS RRB 2023, the competition level will be extremely high. To secure a seat, aspiring candidates need to have a systematic approach and a well planned strategy. Here, we have discussed in detail IBPS RRB Preparation Tips 2023.
How To Prepare For IBPS RRB 2023?
Every aspiring candidate stick to and follow their own preparation strategy for IBPS RRB 2023. Here, we have provided in general IBPS RRB Preparation Tips 2023.
Understand the IBPS RRB 2023 Exam Pattern and Syllabus
Aspiring candidates should be familiar with the IBPS RRB Syllabus 2023 and Exam Pattern. The preliminary examination comprises Reasoning and Numerical Ability sections, while the main exam covers various subjects like Reasoning, Quantitative Aptitude, General Awareness, English/Hindi language, and Computer Knowledge.
Make Your Own Study Plan
Each of the aspiring candidates should have their own study plan imparting time for each section. The goal set should be realistic and achievable and according to which the preparation time should be divided. Aspirants need to dedicate extra time to the subject/topic they find to be challenging maintaining balance with the sections they are strong at.
Study Material and Resources
A large number of Study Material and Resources are available in market today. Aspirants need to rely on updated and authenticate materials for each of the subject.
Time Management
Time Management has a crucial role in banking examinations. One should have the idea of how to manage time effectively during the examination. Aspirants should develop the habit of practicing questions within the given time frame so that their speed and accuracy gets improved.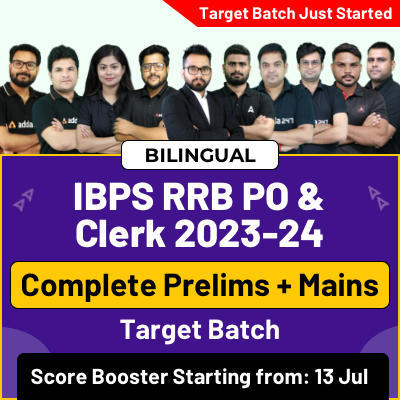 Practice Regularly
The key to success in any competitive examination is practice. On a regular basis questions of each subject should be practiced. Regular Practice enhances the preparation of candidate, help them understand the exam pattern, improve their problem-solving abilities, and assist them in identifying their strengths and weaknesses.
Focus on Accuracy and Speed
The ultimate target of candidates should be to maintain accuracy along with speed. Initially, the focus should be on accuracy so that they avoid making silly mistakes. Later work on increasing your speed without compromising accuracy.
Revise Regularly
There should be a proper time set for revision. Revision is important so that the concept and facts of previously covered topics are not forgotten. During preparation make handy and concise notes which will be beneficial at the time of revision.
Mock Tests and Analysis
Preparation is incomplete without attempting sectional as well as full length mock tests. Mock Tests helps in assessing preparation level and the areas that need improvement. After taking IBPS RRB Mock Tests, candidates should analyze their performance and understand their strength and weakness.
Time for Relaxation
To qualify for the examination it is important to work hard and be consistent in preparation. On the other hand one should also take break and relax themselves. Remain stress free during preparation, maintain a healthy lifestyle and have sufficient amount of sleep.
Strategy Of Toppers To Crack IBPS RRB 2023
Motivation has an important role in the preparation journey of aspiring candidates. One should have short-term and long-term goals rewarding themselves for achieving the milestones, and should remain positive even during the challenging phase of life. One of the ways to remain motivated is by going through the Strategy Of Toppers and know how they were successful in qualifying IBPS RRB Exam even after facing the hardships of life.