All the candidates who have successfully registered for the ECGC PO 2022 are eligible for the examination. Which is scheduled to be held on 29th May 2022. The Export Credit Guarantee Corporation of India (ECGC) will recruit the candidates based on the online examination and interview. An aspirant has to qualify for each stage separately in order to get the final selection. In this article, we have provided last-minute tips for the ECGC PO 2022 examination which will help and guide the aspirants for their upcoming ECGC PO examination 2022.
Last Minute Tips for ECGC PO Exam 2022
As only some days are left for the ECGC PO examination and many candidates who will appear in the ECGC PO examination on 29th May 2022 must check the last-minute tips as well for the examination. These tips will guide the aspirants before the examination. In this article, we will be providing the last-minute tips for the upcoming ECGC PO examination 2022, which will be helpful for the candidates who are going to appear in the ECGC PO examination.
Build confidence by attempting the easy ones in each section first. The confidence will create positive momentum for candidates to do well and keep difficult and time-consuming questions in each section for the end.
Make proper notes all by yourself. creating your own notes will help candidates give a fair idea about your preparation and it will benefit later at the time of revision.
Mocks are always a great opportunity to calculate where one stands in the competition and how much you have earned the grip over the ECGC PO syllabus, don't wait for the last time to begin your mock tests. Keep trying them along with preparation.
Keep your ears and eyes alert to keep up with current events. This is a great method to learn. Watch the news and read current events magazines.
Related Post
Practice previous year's question papers in order to know what kinds of questions have been asked previously. This will give an exact idea as to what and how to prepare.

 Keep all the necessary documents you are supposed to carry for the examination a day before the exam

 Read all the instructions carefully mentioned in the admit card so that you may not miss anything

Do not take the stress and do not let your anxiety ruin the performance and preparation that you have done so far for the examination.

 Stay positive and confident and do not take too much stress before the examination as it may ruin your examination
Last Minute Tips for ECGC PO Exam 2022 in Hindi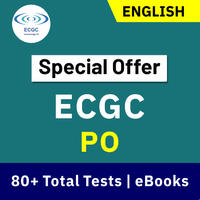 Current Affairs