LIC AAO, AE Salary: The Life Insurance Corporation of India (LIC) one of the coveted organisation in India had released 200+ vacancies for the post of Assistant Administrative Officer (AAO) & Assistant Engineer (AE) in various disciplines like CA,Legal, Rajbhasha, IT Acturial and 168 posts have been released of AAO under these disciplines while 50 vacancies have been released of AE under various disciplines

LIC AAO Exam is also a three tier recruitment process like bank PO. The Phase I exam was earlier scheduled to be held on 4th April 2020 but due to coronavirus it got postponed and LIC had released a notification stating the postponement of the exam till further orders. This is the most supreme job after RBI Grade B in Banking & Insurance segment.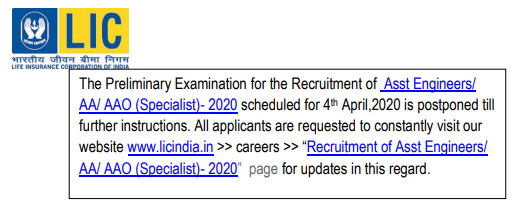 In this post we will discuss Job Profile, Career Progression & Salary of LIC AAO & AE posts.
You may also like to read:
Salary: 
According to the official notification, the basic pay of both the posts i.e. AAO & AE is Rs. 32795 per month in the pay scale Rs. 32795- 1610(14) –55335– 1745(4) –62315. Total gross emoluments including House Rent Allowance, City Compensatory Allowance etc is Rs 57,000/- per month in 'A' Class city.
Creature Comforts

Defined Contributory Pension & Gratuity
LTC
Cash Medical Benefit
Group Mediclaim
Group Personal Accident Insurance
Group Insurance
Vehicle Loan (2-wheeler/4 wheeler)
Meal Coupon
Reimbursement of cost of Brief case/Leather bags
Mobile Handset
Mobile Expenses
supply of dailies & magazines and tea/coffee
Job Profile:
AAO also known as Assistant Administrative Officer & AE (Assistant Engineer) are an Officer level post with great authority. The AAO assists Administrative Officers & higher management in implementing various policies. The AAOs are assisted by Assistants. The Assistant Engineer provides technical assistance to the organisation. So, this is a great opportunity for Engineering graduates who want to work in their own field of study.
Career Progression:
The Life Insurance Corporation provides immense career progression opportunities. Moreoever, the employees get plenty of time to pusue their hobby or higher studies. Every organisation has different ranks/designation in the hierarchy of the organisational structure. The promotions in insurance sector are based on seniority of the employees. Below are the designations that one gets promoted to from the post of LIC AAO.
Click Here to Register to get study material and regular updates of LIC AAO, AE 2020 Recruitment
Practice With:
LIC AAO and AE Prelims 2020 Online Test Series
Frequently Asked Questions:
Q. What is the revised date of LIC AAO/AE 2020?
Ans. LIC is yet to release the revised date of LIC AAO/AE 2020.
Q. What is the basic pay  of an LIC AAO/AE?
Ans. As per the official notification, the basic pay an LIC AAO/AE is Rs 32795/- per month
Q. What are perks of LIC AAO/AE?
Ans.The perks of a LIC AAO/AE are: Defined Contributory Pension & Gratuity, LTC, Cash Medical Benefit, Group Mediclaim, Group Personal Accident Insurance, Group Insurance, Vehicle Loan (2-wheeler/4 wheeler), Meal Coupon, Reimbursement of cost of Brief case/Leather bags, Mobile Handset, Mobile Expenses, supply of dailies & magazines and tea/coffee