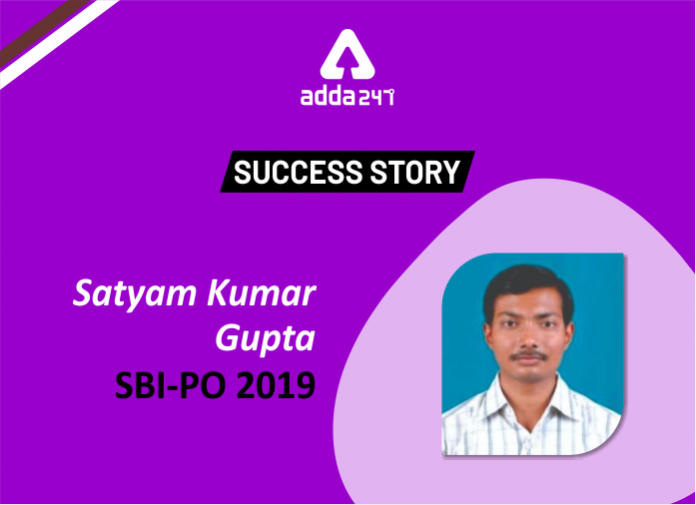 It makes Adda247 really happy that finally you got your dream job and want to congratulate Satyam and all the aspirants who emerged successful in the SBI PO 2019. Satyam Kumar Gupta who got selected in SBI PO 2019 has shared his success story with us. We hope his hard work and continuous efforts will motivate you and help you in chasing your dream.   
Name :- Satyam Kumar Gupta 
Designation :- Probationary officer in State Bank of India (Batch 2019) 
Hello All,
My name is Satyam Kumar Gupta. I have completed my B. Tech. in Electrical Engineering from NIT Raipur in May 2018. The reason why I mentioned this before starting my story is that since I was from a prominent college, people around me were pushing me to go for Gate Exam after my graduation, but deep down in my heart, I knew the truth that I was not good at Engineering and I need a job. So, with my family's support, I decided to go for banking exams. 
I started my preparation on 10 July 2018 with offline coaching classes in Kapoorthala branch of Career Power Lucknow. This institute helped me a lot in sailing through each and every phase of my journey just like a family. I gave my first exam for BOB PO in august 2018 and failed.
The first exam I was able to clear was IBPS PO Prelims in Oct 2018 but I made a blunder there. I underestimated myself and thought that I cleared it by luck and I won't be able to clear mains and went to home in Diwali vacations. As someone once wisely said, "Your reality is a reflection of what you believe." I could not clear mains by 6-7 marks. I got decent marks in all the subjects except GA where I got 8-9 marks while in other sections got 20-25 easily. 
The time after IBPS PO mains result was very depressing for me because I missed the opportunity because of my own stupidity. My friends and mentors at Career Power Lucknow helped me a lot in restarting my preparation. I promised myself to crack a govt. exam within a year and my real struggle started from that day. The time after that had many ups and downs but the days that break you are the days that make you. Faculty at my coaching helped me to learn all the missing concepts while mock tests by Adda247 helped me to analyze my scores, strengths and weaknesses. 
I gave each and every banking and insurance exam of 2019 but the hard work started paying off with clearing written exam of IDBI Asst. Manager (Direct Recruitment). Here, I would like to mention the fact that I appeared for around 15-20 interviews during campus placement in my college but could not get through any of it. Again, my mentor, Anuj sir, came to save me and his guidance helped me to clear interview with flying colours and I got a score of 84/100.
It didn't stop here. I gave SBI PO mains with 121 attempts and I was sure to get 130+ marks (I got 140 in mains in final result). I got 80/80 marks in RRB Prelims which also boosted my confidence for SBI interviews. This time, guidance of Anuj sir was supplemented by Shrotriya sir (Retd. AGM, SBI) in interview classes provided by Career Power Lucknow. Daily interview mocks in coaching and with my friends helped me very much to clear interview of SBI PO. 
To all the aspirants reading this story, I just want to tell you all that you can do anything. 'If you think you can, you will.' So, don't underestimate yourself, never give up on your dreams. At any point of time, if you think like losing yourself, think why have you started this? Never settle for less. Keep learning, keep growing.
If you are the one who has found his/her name in the merit list, share your success story with your photograph to us. We will share your story with our readers. Mail us at Blogger@adda247.com or achievers@adda247.com. You will also get a chance to interact with Anil Nagar sir, CEO in Dare to Dream Season.
This is not the end of your journey, if you want to enhance your career in banking, you can consider preparing for JAIIB certification program conducted by Indian Institute of Banking and Finance. JAIIB test is taken by the banking institution to check the basic knowledge of banking.  For more details about JAIIB, click on the link below:
JAIIB exam pattern, and syllabus