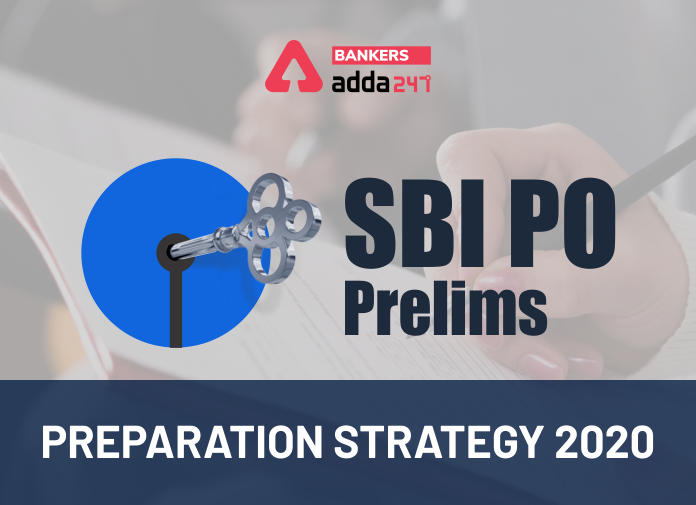 SBI PO 2020: The State bank of India on 13 November 2020 released its official notification regarding the post of probationary officer. Probationary Officer in the most reputed bank that is SBI is a dream job for many aspirants but cracking the SBI PO exam is not easy. In order to crack this competitive exam, it is important for the candidates to follow a certain strategy plan/study plan that will help them enhance their performance And preparation.
In this article, we will be discussing some strategic plans that the candidates must keep in mind while preparing for the first stage of SBI PO that is the Prelims Exam 2020. Let us first look at the exam pattern
About Course:
This package is a part of Unlimited Validity *Campaign - Valid till promo period ends TNCs
Package Includes:
SBI PO 2020-21
-SBI PO Prelims: 20 Full-Length Mocks with Video solutions.
-SBI PO Prelims: 7 Previous Year's Papers 2016, 2017,2018 & 2019
-SBI PO Prelims: 60 Section Wise Practice sets (20 Reasoning,20 Quant & 20 English).
20 Topic-wise Practice sets (20 Questions in Each set)
-Reasoning Topic Wise Practice sets: 2 Puzzle, 2 Seating arrangement, 2 Syllogism & 1 Inequality & 2 Miscellaneous
-Quantitative Aptitude Topic Wise Practice sets: 2 DI, 2 Quadratic Equation, 2 Series
-English Language Topic Wise Practice sets 2 Error Correction,1 Filler, 1 RC, 1 Cloze Test)
SBI PO Mains 2020
-SBI PO Mains: 10 Full-Length Mocks with Video solution
-SBI PO Mains: 4 Previous year's Papers (2017,2018 & 2019)
-SBI Mains: 15 Section Wise Practice sets (5 Reasoning,5 Quant & 5 English)
Note: Full Length Mocks will be available soon
eBooks
-Banking Awareness 2nd Edition eBook (Only English)
-Static Awareness eBook 2nd Edition (Only English)
-Interview eBook (Only English)
-Descriptive eBook (Only English)
Salient Features:
- In English & Hindi Medium.
- Bi-Monthly Current Affairs (November 2019 to October 2020)
- Accessible on Adda247 store and Adda247 Mobile App
- Detailed Solutions.
- Analysis of The Attempted Tests in Detail (All India Rank, comparison with toppers, etc.)
SBI PO Prelims: Section Wise Practice sets will be available after notification.
Get the most popular Book for SBI-PO 2020 exam - Click
MPN: BA-E-TS-3359
Validity - 12 Months
Uploading plan for SBI PO Pre full-length mocks:
| | | |
| --- | --- | --- |
| Set No, | Mock Live Date | Video Solutions Live Date |
| Mock 01 | Available | Available |
| Mock 02 | Available | Available |
| Mock 03 | Available | 23-Nov-2020 |
| Mock 04 | 25-Nov-2020 | 25-Nov-2020 |
| Mock 05 | 26-Nov-2020 | 28-Nov-2020 |
| Mock 06 | 30-Nov-2020 | 30-Nov-2020 |
| Mock 07 | 1-Dec-2020 | 02-Dec-2020 |
| Mock 08 | 3-Dec-2020 | 04-Dec-2020 |
| Mock 09 | 7-Dec-2020 | 07-Dec-2020 |
| Mock 10 | 8-Dec-2020 | 09-Dec-2020 |
| Mock 11 | 10-Dec-2020 | 11-Dec-2020 |
| Mock 12 | 14-Dec-2020 | 14-Dec-2020 |
| Mock 13 | 15-Dec-2020 | 16-Dec-2020 |
| Mock 14 | 17-Dec-2020 | 18-Dec-2020 |
| Mock 15 | 21-Dec-2020 | 21-Dec-2020 |
| Mock 16 | 21-Dec-2020 | 22-Dec-2020 |
| Mock 17 | 22-Dec-2020 | 23-Dec-2020 |
| Mock 18 | 23-Dec-2020 | 24-Dec-2020 |
| Mock 19 | 24-Dec-2020 | 25-Dec-2020 |
| Mock 20 | 25-Dec-2020 | 26-Dec-2020 |
State Bank of India is the biggest financial institution in the country with branches spread across the entire length and breadth of the country. In order to select the most suitable candidates for the various vacancies available with its different branches, SBI conducts several recruitment drives every year in which numerous candidates participate. One of the most sought after recruitment drives conducted by SBI is the SBI PO Recruitment in which hundreds of thousands of candidates participate. In order to be selected for the next stage, all candidates must clear the SBI PO Exam, which requires a lot of practice and persistence possible only with access to best learning resources. The SBI PO Test Series offered by Adda 247 is the most comprehensive online test series that will not only acquaint your with the intricacies of the exam but also help you to score the desired marks.
SBI PO Vacancies
SBI has announced about 2000 vacancies for the SBI PO exam in 2020. Following table shows the division of available vacancies according to the different categories.
| | |
| --- | --- |
| Category | Vacancy |
| General | 810 |
| OBC | 540 |
| SC | 300 |
| ST | 150 |
| Total | 2000 |
SBI PO Selection Process
A graduation degree is a prerequisite for SBI PO exam and also that the candidate appearing for the exam should be either a citizen of India or must be a subject of Nepal or had been migrated from Tibet before 1962 or a person of Indian origin.
The selection process for the SBI PO takes place in three stages: Preliminary, Mains, and Group exercises or interviews.
This is an hour-long exam that consists of 30 questions to check proficiency in English language, 35 questions to check numerical ability and 35 questions to check reasoning ability. The whole exam totals to 100 marks, and the negative marking of 0.25 marks is done for every wrong answer.
The candidate must clear the required cut-off to appear for the Mains exam.
Mains exam can be further divided into parts: objective exam and a descriptive test.
The objective exam is of 3 hours duration and includes four sections totalling to 200 marks. The division of the exam is given below:
| | | | | |
| --- | --- | --- | --- | --- |
| S. No. | Name of Tests (Objective) | Maximum Marks | No. of Questions | Duration |
| 1 | General/Economy/ Banking Awareness | 40 marks | 40 questions | 35 minutes |
| 2 | Data Analysis & Interpretation | 60 marks | 35 questions | 45 minutes |
| 3 | Reasoning and Computer Aptitude | 60 marks | 45 questions | 60 minutes |
| 4 | English Language | 40 marks | 35 questions | 40 minutes |
| | Total | 200 marks | 155 questions | 180 minutes |
The descriptive test takes place right after the objective exam. Both the exams are held online and are monitored closely.
The candidates who qualify the mains exam appear for the interview.
SBI PO Test Series
Adda247 is providing an amazing deal to prepare for SBI PO exam 2020. We have come up with a special package of SBI PO online test series that includes e-books and mock test to prepare better for the SBI PO exam. This pack includes mock tests for full-length exams and also for the section-wise test to help you prepare each topic thoroughly. This SBI PO pre test series will help you practice more and prepare better for the exam.
SBI PO Combo | Prelims + Mains 2020 | Online Live Class


140+ hours interactive Live Classes
Topic Wise Test
Recorded Videos
BUY NOW
SBI PO Prelims 2020 Exam Pattern
This test is of 1-hour duration consisting of 3 Sections(with separate timings for each section) and the pattern is as follows:
S.No.
Name of Tests(Objective
No. of Questions
Maximum Marks
Duration

1

English Language

30

30

20 minutes

2

Quantitative Aptitude

35

35

20 minutes

3

Reasoning Ability

35

35

20 minutes

Total

100

100

60 minutes
SBI PO Prelims 2020: Preparation Tips
Get familiar with the syllabus and exam pattern fully

: The first most important step for any aspirants who are appearing for any competitive exams especially the banking exam is to get familiar with the syllabus fully. Parents are advised to read the exam pattern and detailed syllabus of SBI PO Prelims 2020. The rest of the preparation will be effective only if the candidates know the entire syllabus, this will help them cover each and every point and not miss anything.

Previous year's papers:

in order to know the important topics that appear in these types of examinations and the exact format of the examination the candidates must read the previous years' question papers and get familiar with them. Once the aspirants are aware of the format and are familiar with the questions that are frequently asked their preparations in accordance with that will be much effective and efficient. Solving previous years' papers is also very important as they are the mirror image of the upcoming exam. Papers like IBPS PO etc, somehow have the same exam pattern and there are some questions and topics that are common in these examinations. So the aspirants are advised to also look at them build their knowledge much diverse.

Make notes

: After covering each and every topic and even during the preparation the candidates are advised to make notes. This will not only help them revise those topics but also at the time of examination there will be a set of notes that they can revise without wasting much time.

Practice/Take Mocks: once the candidates are done with a round of practice of all the important topics it is important for them to start giving the mock tests. The mock test must be accompanied by its analysis. This means that the candidates can practice their preparation by giving mock tests and by analyzing their results and performance they can learn from their mistakes not repeat them any further. This will also let the candidates know about their strengths and weaknesses.
Also Check,
Revise:

When it's time and very few days are left for the examination the candidates always go for a final run through the topics that they have prepared so far. That is the moment where revision takes a stronghold. Revising the personal notes and the important topics Will give a final touch and garnish the preparation of the candidates before they appear for the examination.
The candidates are advised to kickstart their preparations as soon as possible because the competition is high and it will require good strength and excellent performance. All the best !!!