Hello Everyone,
My name is Mukesh Kumar Gupta, I am from Giridih, Jharkhand, I did BBA from Vinoba Bhave University in 2015. I got selected in FCI AG3. I would like to thank my parents and friends who believed me more than myself.
My key of Success:
हमेशा आपनी अंतिम कोशिश जरूर करें और किसी कोशिश को तब तक अंतिम ना माने जब तक आप सफल नहीं हो जाते।
Exams I appeared in the year 2019:-
LIC AAO:- Rejected
IDBI PO:- Rejected
SBI PO:- Rejected
SBI CLERK:- Rejected
RRB PO:- Rejected
EPFO Assistant Rejected
IBPS PO Mains:-Rejected
MTS:- Cleared 
FCI AG3:- Selected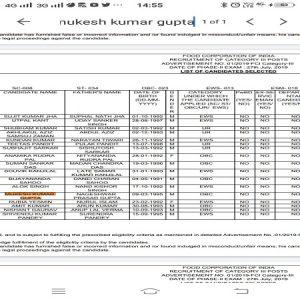 Also Read,
My journey/struggle for government Jobs started in 2016. However, it took a long 4 years to secure my position in the merit list.
In the period of these 4 years, I struggled a lot and faced many failures but never got disheartened. I always used to think what you had in mind the day started,
Getting a selection or taking a chance?
The same thing always inspired me.
Although I never loved a government job this was the reason that after completion of my BBA I joined a sales job in the two-wheeler segment. The place of work proved to be the turning point of my life.
Every person with whom I grew closer advised me, what are you doing here for just a few pennies at such a young age. Leave it and work hard for a government job you have both time and age just don't miss such a golden time for a little money.
That hit my mind seriously and I joined a coaching center. After the completion of coaching, I used to give Adda247 mocks regularly and always kept using the Adda247 App for regular practice.
Although sometimes I used two other mocks, the advantage that got from Adda247 does not match anywhere. Once I realized the importance of the Adda247 test series, I never prefer any other mocks.
Firmly I would say, for selection in FCI there is only one handholding of Adda247 test series.
I never bought any book during the preparation days, I used only Adda247 free Youtube classes.
During my journey, I faced many failures,
My first selection was SBI PO in 2017 where I rejected in mains, then RRB PO 2017, but eventually I could not make a merit list. It broke me. I decided to leave it here because it was my third consecutive year and once again I joined a private job in Sharekhan Ltd.
I am very thankful to one of my friend Rahul Raj, who motivated me and forced me to try once more with him, as I cleared pre and mains also, He always used to say me, don't leave, you can make it, just believe me, you can.
Again, In Feb 2019 I left that job and thought let's take a last chance and started preparation with all my energy. Forgetting hunger and thirst make days and nights the same because for me it was just like a do or die condition.
And finally thank god in 2019 I make merit in the FCI AG3 list, MTS 2nd stage, and also cleared IBPS PO pre but could not mains.
Never disbelieve in your hard work and god. 
Visit Achieversadda.com and participate in discussions with other aspirants and achievers. Get answers to your queries and connect with others on Achieversadda.com
You also Can become achiever, try these study materials to crack the IBPS Clerk exam:-
Team Bankersadda Congratulates all Achievers!! Your hard work has finally paid off and now its time to share your success with the world. Send your success story with a success selfie to blogger@adda247.com
Register Here Achievers to Share Your Success Story
WhatsApp your Result to Us – 8750044828
Check updates related to notification, vacancies, eligibility, exam pattern, syllabus and more related to upcoming bank and insurance exams 2020: