Hello Aspirants,
IBPS PO Mains Exam will be conducted on 26th November 2022, we are here to help our candidates to crack their mains exam and brought them a 15 days plan to target the IBPS PO Mains Exam. We expect that all of you had prepared very well and now this is the time to practice and revise all topics which are important from the main exam's point of view.
Target IBPS PO Mains Exam 2022
Benefits of Target IBPS PO Mains Exam 2022
Candidates will not miss any important thing which must be revised a few days before the big day.
Here, we provide separate PDFs of 200 questions for each section which will be helpful to solve a bunch of questions at a time.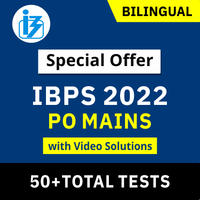 Related Post