Unlock 3.0 Guidelines Out: The Ministry of Home Affairs has finally released the Unlock 3 Guidelines on 29 July which will be effective till 30th August 2020. The Unlock 2 ends on 31st July and hence the Unlock 3 begins for the citizens of India and this time there are some big changes one of them is that the government is now allowing yoga institutes and gyms to reopen from 5th August 2020. The guidelines have been released on the official website @mha.gov.in You can download the official PDF of Unlock 3 Guidelines given below for more details.

Unlock 3.0 Guidelines Out: Download PDF
The following is the link to download the official PDF of unlock 3.0. guidelines released by the government of India on 29th July 2020:
Guidelines will be effective from: 1 August 2020
Guidelines will be effective till: 30 August 2020
Unlock 3 Guidelines- What is open and What is Not?
Schools Colleges will not open till 31st August- The government has posed restrictions on schools and colleges to ensure safety of students, teachers, parents and all community members. All education is being channeled via online medium.
Movie theaters, swimming pools, entertainment parks to remain closed- Considering the nature of engagement required in cinema halls, theaters, pools and such entertainment centre, the government has not lifted the restrictions on these places yet.
Metro Rails to remain closed- The government has not open the metro rail in Unlock 3 yet.
Large Gatherings are prohibitted- Govt. has not allowed social/ political/ sports/ entertainment/ academic/ cultural/ religious functions and other large congregations.
Yoga institutions and gymnasiums to reopen from 5th August- finally the govt. has approved gyms to repoen from 5th August 2020 but they shall follow the Standard Operating Procedures or SOP issued by the Ministry of Health and Family Welfare.
International Air Travel allowed through Vande Bharat mission- Air India has announced the details of Vande Bharat Mission Flights- Check Here.
Domestic Air Travel Guidelines State-wise- Click Here
Night Curfew Removed: The government has removed the night curfews and has mentioned that lockdown shall remain limited to containment zones till 31 August 2020.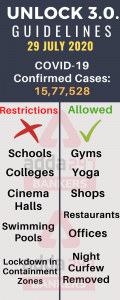 Visit Achieversadda.com and participate in discussions with other aspirants and achievers. Get answers to your queries and connect with others on Achieversadda.com