The Banking Awareness section constitutes a major part of a competitive examination and needs your undivided attention. With the increased competition in the field of Banking examinations, it has now become very important to cover up all the sections efficiently. One subject that can help you bagging graceful marks in the minimum time in these examinations is Banking Awareness. Banking Awareness Quiz not only helps you deal with the General Awareness Section of Banking Exams but also, the Personal Interview round of Banking or Insurance Recruitment.

To complement your preparation for General Awareness section of the upcoming exams like SBI Clerk Mains and RBI Assistant Mains we are providing you Banking Awareness Quiz of 29th June 2020 covering the following topics: Financial Assistance, Indian Depository Receipt, future trading, Arbitrage.
Q1. The financial assistance of loans of Rs. 10000 by a bank to very a small borrower will be called-?
(a) Business Finance
(b) Government Finance
(c) Micro Finance
(d) Small Finance
(e) KYC Finance
Q2. What is an Indian Depository Receipt (IDR)?
(a) A deposit account with a public sector bank
(b) A depository account with any of the depositories in India
(c) An instrument in the form of depository receipt created by an Indian depository against underlying equity shares of the issuing company
(d) An instrument in the form of deposit receipt issued by Indian depositories
(e) None of the given options is true
Q3. Many times, we read about future trading in newspapers. What is 'future trading'?
I. It is nothing but a trade between any two stock exchanges, wherein it is decided to purchase the stocks of each other on a fixed price throughout the year.
II. It is an agreement between two parties to buy or sell an underlying asset in the future at a predetermined price.
III. It is an agreement between stock exchanges that they will not trade the stocks of each other under any circumstances in future or for a given period of time.
Select the correct answer using the codes given below
(a) Only I
(b) Only II
(c) Only III
(d) II and III
(e) None of the given options is true
Q4. Which of the following cannot be called as a debt instrument as referred in financial transactions?
(a) Certificate of deposits
(b) Bonds
(c) Stocks
(d) Commercial Papers
(e) None of the given options is true
Q5. In the capital market, the term arbitrage is used with reference to-
(a) Purchase of securities to cover the sale
(b) Sale of securities to reduce the loss on purchase
(c) Simultaneous purchase and sale of securities to make profits from price
(d) Variation in different markets
(e) None of the given options is true
Solutions
S1. Ans.(c)
Sol. The financial assistance of loans of Rs. 10000 by a bank to very a small borrower will be called Microfinance.
S2. Ans.(c)
Sol. An IDR is an instrument denominated in Indian Rupees in the form of a depository receipt created by a Domestic Depository (custodian of securities registered with the Securities and Exchange Board of India) against the underlying equity shares of issuing company to enable foreign companies to raise funds from the Indian securities Markets.
S3. Ans.(b)
Sol. It is an agreement between two parties – a buyer and a seller – wherein the former agrees to purchase from the latter, a fixed number of shares or an index at a specific time in the future for a pre-determined price.
S4. Ans.(c)
Sol. Debt instruments are assets that require a fixed payment to the holder, usually with interest. Examples of debt instruments include bonds (government or corporate), mortgages, Commercial Paper and Certificate of Deposits.
S5. Ans.(c)
Sol. Arbitrage is basically buying a security in one market and simultaneously selling it in another market at a higher price, profiting from the temporary difference in prices. This is considered risk-free profit for the investor/trader.
To attempt the complete quiz refer to the links given below:
Start Your Preparation for RBI Assistant Mains? Fill this form to get free Study Material
You may also like to read: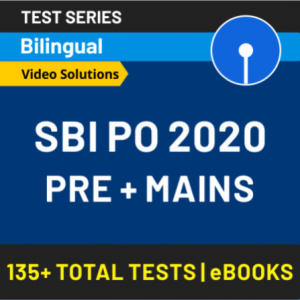 Watch the Current Affairs Show of 29th June 2020:
Visit Achieversadda.com and participate in discussions with other aspirants and achievers. Get answers to your queries and connect with others on Achieversadda.com
All the Best BA'ians for RBI Assistant Mains!