UPSC EPFO Study Material 2023
UPSC EPFO Exam might just be the biggest examination of 2023. It is expected candidates preparing for various examinations like UPSC, State PCS, SSC, and Banking will appear for these 418 posts of Enforcement officers. Since this is not a regular examination often candidates face a resource crunch, and it is even difficult to find reliable material for any exam conducted by UPSC. Added to it is the burden of Labour Law, Accounting, and Social Security which even the most seasoned candidates of State PCS and UPSC find a tough nut to crack. In order to aid your preparation we have decided to provide you with the most reliable and trustworthy content in the form of handwritten notes.
UPSC EPFO Study Material 2023, Study Plan
These are handwritten notes of Past UPSC EPFO Toppers. These notes will cover the majority of important sections for the UPSC EPFO EO Exam. Handwritten notes are not only a great medium for understanding a topic but also help in forming own notes for the examination. Now you can study from the notes of toppers and enhance your chances of success in the Enforcement Officer exam.
Here is the link for subject/topic-wise notes for candidates.
Topics Covered in Study Notes
The candidates will be able to access the topics-wise handwritten notes by toppers. We gradually release the notes in a topic-wise manner. You must register with us in order to access all the handwritten notes for UPSC EPFO Exam. The topics covered are mentioned here.
UPSC EPFO Study Notes – Topics
S.No.
Subject
Important Topics
1
Indian Polity and Economy
Constitution of India, Preamble, Fundamental Rights
and Duties, Directive Principles of State Policy,
Parliament and State Legislature, Budget, Fiscal Policy
and Monetary Policy, Planning Commission and NITI Aayog
2
General Accounting Principles and Laws
Accounting Standards, Taxation Laws, Company Law,
Labor Laws, Industrial and Provident Fund Acts
3
Industrial Relations and Labor Laws
Trade Union Acts, Industrial Dispute Acts, Labor Laws
related to Wages, Social Security and Welfare Measures
4
Social Security in India
EPF Act, EPS Act, ESI Act, Gratuity Act, BONUS Act,
Maternity Benefit Act, Workmen Compensation Act, etc.
5
Current Events and Developmental Issues
National and International News, Government Policies
and Schemes, Important Institutions and Organizations
6
General Science and Mathematics
Physics, Chemistry, Biology, Basic Mathematics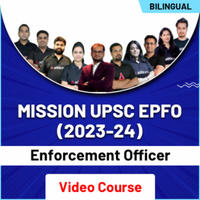 Other Important Posts For UPSC EPFO