Bankersadda has invited all readers of our community to pen down their voices and become an active member of bankersadda team by getting featured as a guest writer. Here we are sharing a Guide for Students to Deal with Covid-19 Pandemic Stress by our guest writer Naina Shivhare.
Chance to Feature Your Article on Bankersadda | Voice Your Opinion as Guest Writer
Sixty-one per cent Indians are experiencing mental health-related issues because of the uncertainty and looming financial crisis during the lockdown, said a survey. But don't you worry at all I have some interesting tips to reduce your stress level and rejuvenate your body and soul.
Get fit
Missing the gym? Working out at home can be just as beneficial for both your mind and body. Why not try out different types of workout over the course of the next few weeks and be the witness of your transformation. You can try simple yoga postures like plank pose, warrior pose, triangle pose that can help you reduce your stress and this will surely breathe life into you.
Beat frustration with super skills
Sure you must have upgraded your culinary skills over the lockdown with Dalgona and no-cook/oven chocolate cake.
You may also learn to play an instrument. Dust off the keyboard you got for Christmas last year retune that guitar you've had for god knows how long and begin to fill your days with the sound of music
Go down the memory lane
When anxiety peaks, a simple scroll through the pictures of your last vacation can set your mind at ease. Happy memories have a super-effective way of doubling dopamine and reducing stress instantly. Pick up your parent's wedding album or create a new album for your childhood pics.
Show yourself some love
When you show yourself love, you actually attract more love into your life. Over the next few days indulge in some self care. Ask your folks to give you a hair massage or make yourself a face pack.
Here's a simple hack :- you'll need a tablespoon of besan(gram flour), 1/2 tbsp of turmeric, 1/2 tbsp honey and 1 tbsp of raw milk. Apply it on your face, leave it for 15-20 minutes and then wash it off. This will leave your face moistened and glowing.
Relive your childhood
As children, most of us loved playing board games, be it Ludo, Snakes and Ladder or Scrabble. Some of these games must still be lying in some corner of the house, gathering dust. It's time to brush the dust off and get playing with the family. Once you are done with your work- from-home, you can sit with your family for a round or two and can relive your childhood.
Keep your friends close
Long phone calls with friends and family can be a super stress reliever. Impromptu video calls with old friends are more useful ways of coping with stress rather than scourging news articles for hopeful news all day, every day.
Well if next time you are stressed…
Take a step back, inhale and laugh remember who you are and why you're here. You're never given any thing in this world that you can't handle.
Be strong, love yourself and love others.
Take a deep breath and hope for the best.
We are in this together.
You too can feature on bankersadda by sharing an article as a guest writer, for details of topic and entry click on the link given below-
Chance to Feature Your Article on Bankersadda | Voice Your Opinion as Guest Writer
About the Writer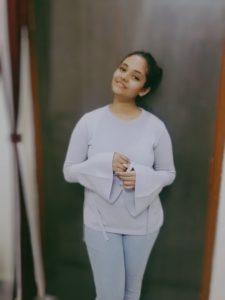 "Hello this is Naina Shivhare and I am from Jhansi (Uttar Pradesh) I am a commerce graduate and at present I am doing my masters.
I have been following Adda247 since 2 years and it has been a great experience for me as it has witnessed my growth as a banking aspirant. I love the feature of daily quizzes that helps the aspirant to analyse their day to day evolution. I am yearning for the job of a Bank PO and is grateful to adda247 to help me in my promising journey to achieve my goals."