Hello guys,
This is Monika N Yadav, I am preparing for bank exams since 3 years. I have cleared IBPS PO pre 2 times and sbi clerk pre 2 times but somehow my mains exam is not cleared. Now IBPS PO is comes like the biggest hope.
How ADDA247 helps me ?
I am connected with adda247 since last 3 years. It helps me a lot. Daily quizzes helps me a lot to revise my topics. We also get reward points for our right answers. I get 15000 points form adda247 till now.
Chance to Feature Your Article on Bankersadda | Voice Your Opinion as Guest Writer
How to Prepare for Exams at Home?
In recent months it is not possible to go out and prepare. Due to pandemic we should live inside our home and prepare ourselves for the exam. It is not tough to prepare for exam at home. We should make a strategy and follow it on daily basis. We will get success surely one day. If we face any problem in any topic we should watch free online classes on that topic and solve our problems. It is not possible for everyone to join paid classes but many teachers teach free of cost to help students.
Feeling Demotivated?
After a long struggle for 3-4 years if we are unable to get a gov job, this situation is very heartbreaking. This is the phase where we wants to quit. But wait for a moment and think that "After every dark night there is a bright day." We have no job now but think about the time when we have job. We will able to provide every facility to our parents. This feeling will motivate ourselves internally.
How I manage my time?
I belong to a middle class family. After my graduation I joined a school and also take tution at home. I am working for 10-11 hours after that I am studying. Daily I manage 3-4 hours for my preparation. This time is not enough to crack mains exam, I knew it but unable to increase my preparation time. But this pandemic gives me opportunity to prepare for my exams. This bad time for everyone gives me a little hope to do something for me.
Exam Strategy
For preparing any exam it is very important to know the syllabus of that exam and also the exam pattern.
We should see the previous year paper of that exam. Try to solve them and know our strong area and weak area. Firstly we should work on our weak areas to improve our performance. After clearing all our concepts we should give mock test to know our performance. Also we should try to increase our speed and accuracy. As in bank exams speed and accuracy matters.
Thanks to Adda247 Team- I am thankful to adda247 team to give me this opportunity to express my views on this topic. Also adda247 team helps me a lot in my preparation. In this time it is very important to remain motivated and work for our future.
Health is Important- Guys stay at home, eat healthy and remain healthy. Help some needy ones as humanity comes first
Guest Writer- Monika Yadav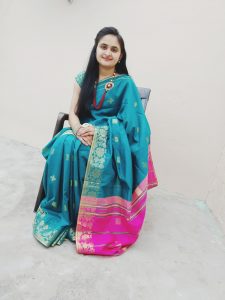 Chance to Feature Your Article on Bankersadda | Voice Your Opinion as Guest Writer