The Reserve Bank of India will conduct the RBI Grade B Phase 2 exam on 25th June 2022 for the general stream. There is hardly a month left now, therefore in order to help you prepare better, today in this article, we will be discussing "How to prepare for RBI Grade B Phase 2" exam. Before giving you a glimpse of the preparation strategy, let us have a look at the exam pattern. There will be three papers in RBI Grade B Phase 2 exam i.e. Economic & social issues, English(writing skills), and Finance & management. In paper 1 which is Economic & social issues, 30 objective questions will be asked having a weightage of 50 marks. There will be also 6 descriptive questions out of which 4 will be required to be done and their weightage will also be 50 marks. The pattern of paper 3 which is Finance and management is similar with paper 1 in weightage of marks and questions.
How to Prepare for RBI Grade B Phase 2
RBI Grade B is one of the most difficult exams which is not as easy nut to crack therefore candidates must start preparing for RBI Grade B Phase 2 exam from today onwards without waiting for their results. Since phase 2 exam is very near therefore a lot of candidates are asking now that "How to prepare for RBI Grade B phase 2" exam. So keep reading this article
How to Prepare for RBI Grade B Phase 2: Finance & Management
In order to prepare for finance & management section effectively, it is very necessary to be aware of the kind of questions asked in its previous year's exam so that you have an idea about the exam. In RBI Grade B 2021 exam, the questions asked from the finance & management section were, what are Basel norms and what are the pillars of Basel 3 norms, questions on corporate governance and its key principles, questions on behavioural reinforcement, major announcement of union budget(2021-2022) and questions on difference between transformational and transactional leadership. Now let us look at how to prepare for RBI Grade B Phase 2 especially finance and management section.
The finance and management section will comprise of both numerical as well as theory questions. This paper has lot of theoretical questions on topics like Financial Statement analysis (Ratio Analysis), Financial markets (primary & secondary markets), financial derivatives, bond valuation, risk management, etc.
Read the standard newspaper for Financial awareness such as economic times as it will help you in preparing a lot of topics
Make notes of formulae and important numericals at one place so that you don't have to open the book every then and now.
The management part can help you in levelling up your confidence as it consists of generic stuff so you don't have to retain all the content line by line.
Read Maslow's theory, ERG model , leadership theories etc.
Give mock tests as much as you can as it will help you in applying the concepts you have learnt
Give section wise quizzes which are available on our add247 app free of cost
How to Prepare for RBI Grade B Phase 2: Economic and Social Issues
In RBI Grade B 2021 exam, questions which were asked from paper 3 i.e. Economic and social issues were, what is meant by the vertical & horizontal allocation of resources to states as per the 15th Finance Commission? How can this objective be achieved, What is the influence of Demographic Transition on India's economic growth?, How have the different aspects of Globalisation evolved since the 2008's Global Financial Crisis so analyse its impact. Now we will discuss how to prepare for RBI Grade B phase 2 for economic and social issues.
Do prepare current affairs of past 1 year and if you can't then atleast prepare 6-8 months current affairs.
Revise all the important reports and index published especially focusing on the ranking of India in these reports and indexes
Revise all the important schemes launched in the past 1 year and the budget allocated in that scheme
Read the economic survey and create short notes to read at the last minute
Read RBI publications like Financial stability report, bimonthly monetary policy, important articles from RBI bulletins.
Go through class 11th & 12th NCERT for economics to read micro and macro economics and others important topics
How to Prepare for RBI Grade B Phase 2: English(Writing Skills)
To be honest you can't do miracle in this section at such a last moment if you do not have a habit of reading newspaper daily. In this section there will be one essay writing, one precis writing and a reading comprehension. To give you an idea about the kind of topics on which essay and precis writing is asked, we are giving you the insights of RBI Grade B 2021 English section . Precis writing question was based on sand mining, the reading comprehension was based on counter economy (Black marketing) and the essay topics that were asked are importance of creative thinking in business, future of BPO industries in India, Pros and cons of teaching coding/computer language to school students.
Read the newspaper and try to find out the most prevalent topics
For precis writing, pick up any editorial of around 500-600 words. The aim is to compress the editorial without loosing the original meaning. Try to make a rough structure and understand the main theme of the paragraph. Also try to understand the structure of information given in the paragraph. Now write all the important points connecting all the dots
How to Prepare for RBI Grade B Phase 2 in Hindi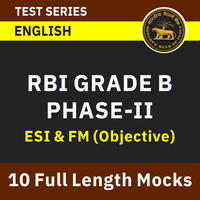 Recent Posts