RBI Grade B Job Profile 2022: The Reserve Bank of India is called the Banker's Bank as it is the apex bank of our country and is responsible for the regulation of the Indian Banking System and the supply of the Indian rupee. RBI works to maintain price stability while keeping in mind the objective of growth. RBI Grade B 2022 notification is out now to fill 294 vacancies of RBI grade B officers. Working in RBI is a dream of many banking aspirants as it provides a handsome salary package along with various perks and allowances. Here in this article, we have given a complete overview of the RBI Grade B job profile for a better understanding of the responsibilities of the Grade B officer.
RBI Grade B Job Profile 2022
Every year, lakhs of aspirants apply for the RBI Grade B post but only a few of them knows about its job profile, therefore we have provided below the RBI Grade B job profile 2022 department-wise. There are mainly five departments
A. Regulation Supervision & Enforcement
Department of Regulation, Department of Supervision and Enforcement Department:
In this department, newly appointed Grade B officers have to work related to policy formulation, onsite and offsite supervision, risk supervision, data analysis
Processing risk assessment reports, preparing and Issuing Show Cause Notices for enforceable violations
B. Financial Markets & Foreign Exchange
Financial Markets Regulation Department:
Work related to market regulation and development, data analysis & research; preparation of oversight/surveillance report
Financial Markets Operation Department:
Work-related to financial market development, data analysis, etc.
Conduct of Open & Special Market operations; analysis of Liquidity Adjustment Facility( LAF), Marginal Standing Facility(MSF)
Market Stabilisation Scheme (MSS), Real Effective Exchange Rate (REER) & Nominal Effective Exchange Rate (NEER) etc.
Foreign Exchange Department:
Examination of applications/requests for exchange transactions; Correspondence with Governments/Departments/Ministries; Preparing Policy notes on Regulations/Directions
Department of External Investments and Operations:
Handling day to day operations, data analysis, etc.
 Work related to IT infrastructure & Back office, preparation of reports/publications, etc.
Internal Debt Management Department :
Conducting auctions on behalf of Central and State Governments; work related to regulation of primary dealers; providing inputs for policymaking
Back-office work, preparation of reports/publications, etc.
C. Banking, Payments, Financial Inclusion & Currency Management
Financial Inclusion and Development Department:
Drafting/ revising Priority Sector Guidelines, preparing and implementing National Strategy for Financial Inclusion, Development of MSMEs.
Interaction with Governments/Industries/ Scheduled Commercial Banks, etc. Acting as Lead District Officer for Lead Bank Schemes in Regional offices
Department of Government and Bank Accounts :
Policy work related to opening of Current Accounts for Banks & Governments, Internal Accounting, Appointments/ performance of Agency Banks, etc.
 Work related to Weekly Statement of Accounts (WSA).
Department of Payment and Settlement Systems :
Policy formulation for regulation and supervision of regulated entities such as PPIs, Wallets, Payment Banks, etc.
Monitoring developments in the field of payments and settlements, including innovations, frauds, etc. Work related to oversight of SWIFT India, ensuring smooth operations of NEFT/RTGS/Cheques, etc
Department of Currency Management:
Work related to demand -supply analysis of currency in circulation, preparation of Weekly Statement of Accounts for issue Dept; monitoring/review of security and logistics for remittances
Acting as Custodian of Vaults in Issue Departments in Regional Offices, Managing sections such as Resource, Remittance, Accounts, etc.
D. Monetary Policy, Research & Financial Stability
Monetary Policy Department:
Providing technical inputs to the Monetary Policy Committee such as growth and inflation projections; preparing Monetary Policy Report (MPR); organizing pre policy consultations with stakeholders
Department of Statistics & Information Management:
Collecting, processing and analyzing granular financial data; conducting research and statistical studies; providing technical support
Department of Economic & Policy Research :
Research on macroeconomic issues and primary statistics and indicators; publishing various reports viz., the Annual Report and the Report on Trend and Progress of Banking in India; organizing Memorial Lectures, Conferences etc.
E. Governance, Human Resource, Support & Customer Service
Corporate Strategy & Budget Department:
Collation of responses for Budget Preparation; providing inputs for strategy framework; Business Continuity Planning, actuarial study of the Bank's liabilities
Human Resource Management Department:
Evolving and Implementing policies on Recruitment, Placement, Promotions, Employee Wellness, Training & Development, Performance appraisal, Mobility, Wage structure and Welfare measures; maintaining HR database, etc.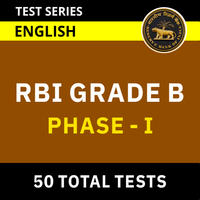 FAQs: RBI Grade B Job Profile 2022
Q. IS RBI Grade B 2022 Notification PDF has been released?
Ans Yes, RBI Grade B 2022 Notification PDF has been released on 28th March 2022.
Q. What is the job profile of the RBI Grade B 2022?
Ans The Job profile of RBI Grade B 2022 has been provided above in this article.