The IBPS is conducting IBPS RRB PO Interviews from 14th November 2022 onwards. Many candidates have appeared in the interview and many are waiting for their turn to present themselves in front of the interview panel. Here, we are sharing the IBPS RRB PO Interview Experience 2022 of Candidate 11.
IBPS RRB PO Interview Call Letter 2022
Question 1: They 1st asked me about my zoology honors
Question 2: Basic 1 to 2 questions from Aquaculture, Pisciculture, Blue Revolution
Question 3: They asked me about my year gap
Question 4: Next question was about Monetary Policy Rates, CRR, SLR, Repo Rate, RRR
Question 5: Why do banks deposit their money to RBI instead of other organizations?
Question 6: Digital currency
Question 7: Cryptocurrency
Question 8: Google penalty amount and reason.
Question 9: Why do you not opt for teaching, why banking?
The interview was held for about 10 minutes.
Also Check: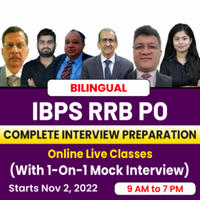 Candidates can also check the interview experience of some other candidates which are mentioned below: