The Institute of Banking Personnel Selection is conducting the exam of IBPS RRB PO Mains on 30 January 2021. This means that the candidates are left with only 15 days to prepare themselves to crack the Mains examination. Now, all the candidates are a step away from your desired job. The competition to sail through RRB PO Mains is increasing in leaps and bounds and it is surely going to leave you in a tight corner. Get ready to face the music. Now it is the time to ask yourself if you are batten down to hatches? The candidates need to make this last phase of preparation most efficient to score maximum in the IBPS RRB PO Mains Exam. For this purpose, we are providing a 15 days strategy so that you can revise all that you have learned so far.
Ask yourself if you have revised all that is required to clear the exam? Are you prepared to compete with thousands of students looking for the same vision? We hope The answer is Yes! As time is limited and you must be looking for tips to crack IBPS RRB Officer Scale 1 Mains in 15 days, Keep on reading this article to check the 15 days strategy for IBPS RRB Mains.
How To Prepare IBPS RRB PO Mains in 15 Days
There is nothing that you can not achieve. Self-belief and firm determination are the two things that will help you cross the hurdles. Remember a saying by Ralph Waldo Emerson "Nothing great was ever achieved without enthusiasm. IBPS RRB is the huge attraction among Indian citizen who is willing to serve the financial services in the regional rural areas. It takes audacity to cross the hurdles on every step at a stretch. The need of the hour is not to give up on your dreams. What all you can do to achieve your dreams? Here are some tips to crack IBPS RRB PO Mains in the shortest span of time.
Also Check,
IBPS RRB Mock Test Released for PO and Clerk Exam, Check Official Website Link
15 Days Strategy to Crack IBPS RRB PO Mains 2020-2021
Try to practice from the miscellaneous exercise at the last moment. Do not go for chapter-wise revision at all. As in the exam, you will get to solve the mixed up questions.
Take IBPS RRB PO Mains mocks at least four times in a week. This will help you analyze your performance completely.
Revise all the formulas and the way to compute them in the shortest span of time.
At the last moment, do not start anything new which you have not started yet. You will feel puzzled by the new concepts.
Revision of all the current affairs, banking news is a must-do job. GA will play a vital role in fetching good marks in the IBPS RRB PO Mains exams.
Get familiar with all the banking terms that are important from the exam point of view and the examiner may ask.
Do not forget to practice form IBPS RRB PO Mains memory based papers. This will help you to know about the actual exam pattern followed by the IBPS RRB.
If you are going to attempt English, Then practice the Error detection exercise as much as you can. This will help you learn the grammar rules.
If you are going to take the Hindi language instead of English, practice miscellaneous exercise not to get puzzled at the time of the Exam.
Analyze from the mock test. Find your weak points. It is the time when you need to pay all your attention to improve on your weak points.
Important Topics to Prepare: Section-Wise
English language: Reading comprehension, Error detection, Cloze test, and fillers should be practiced well. Try to enhance your reading skill so that you can attempt the reading section efficiently.
Quantitative Aptitude: Data interpretation, Number series, Quantity 1 and quantity 2, Data sufficiency, and miscellaneous are some of the important topics that need all your attention to be rerouted before you prepare for the bank exam. If you have practiced well all the chapters, and are aware of the basics concepts then Quant in IBPS RRB PO can do wonders for you in fetching good marks.
Reasoning Ability: Puzzle and seating arrangement, Data sufficiency, logical reasoning, Syllogism, Machine input, and output carries the maximum weightage. The reasoning section tests your ability to tackle the question in the minimum span of time. Do practice all these topics carefully and your basics should be clear.
General Awareness: It is the game-changer in every banking exam. GA is the section where students generally fail to clear the test sometimes by margins. It is necessary to keep yourself updated regularly and one should have adequate knowledge of banking terms. Current affairs of the last 6 months should be revised to face the GA challenge. Although the section is very vast you can tackle it with ease if you have a habit of reading and watching the news daily. No one can complete such a vast syllabus at the time of the exam. Nothing will remain fresh in your mind. So make sure you prepare well for General Awareness for the IBPS RRB PO Mains exam.
So Students, It is high time to realize that time is not going to wait for anyone. It is a now or never opportunity for the year. Grab it before it is gone. Do not let this opportunity slip out of your hands when you are so close to it.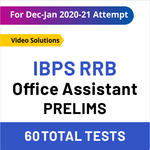 https://www.youtube.com/watch?v=1Dhn2B_Z7FE