JAIIB Accounting and Finance for Bankers (AFM) MCQs Book is the ultimate companion for those aiming to excel in the JAIIB Exam. The collection of Multiple Choice Questions (MCQs) in this book is specifically designed to cater to the unique requirements of JAIIB aspirants, enabling them to have command over the accounting and finance section. With this book, aspirants can prepare with confidence, significantly boosting their chances of success and paving the way for a fulfilling career in banking. It serves as the key to mastering the fundamental principles of accounting and finance, ultimately leading to excellence in the JAIIB examination. Get ready to surpass expectations and propel the banking career to new heights!
JAIIB Accounting & Financial Management For Bankers(AFM) Book
The "JAIIB Accounting & Financial Management For Bankers(AFM) Question Bank" serves as an invaluable resource for candidates striving for success in JAIIB 2023 Exam. With the structured, current, and practice-driven approach, the book empowers aspirants to approach the JAIIB AFM exam with confidence. It is an essential tool that will solve all the accounting need of candidates, enabling them to invest in their future success. By utilizing this trusted study companion, aspirants can unlock the doors to a promising career in . accounting & financial management. The book is meticulously updated with the latest examination pattern and is tailored for JAIIB AFM Exam preparation.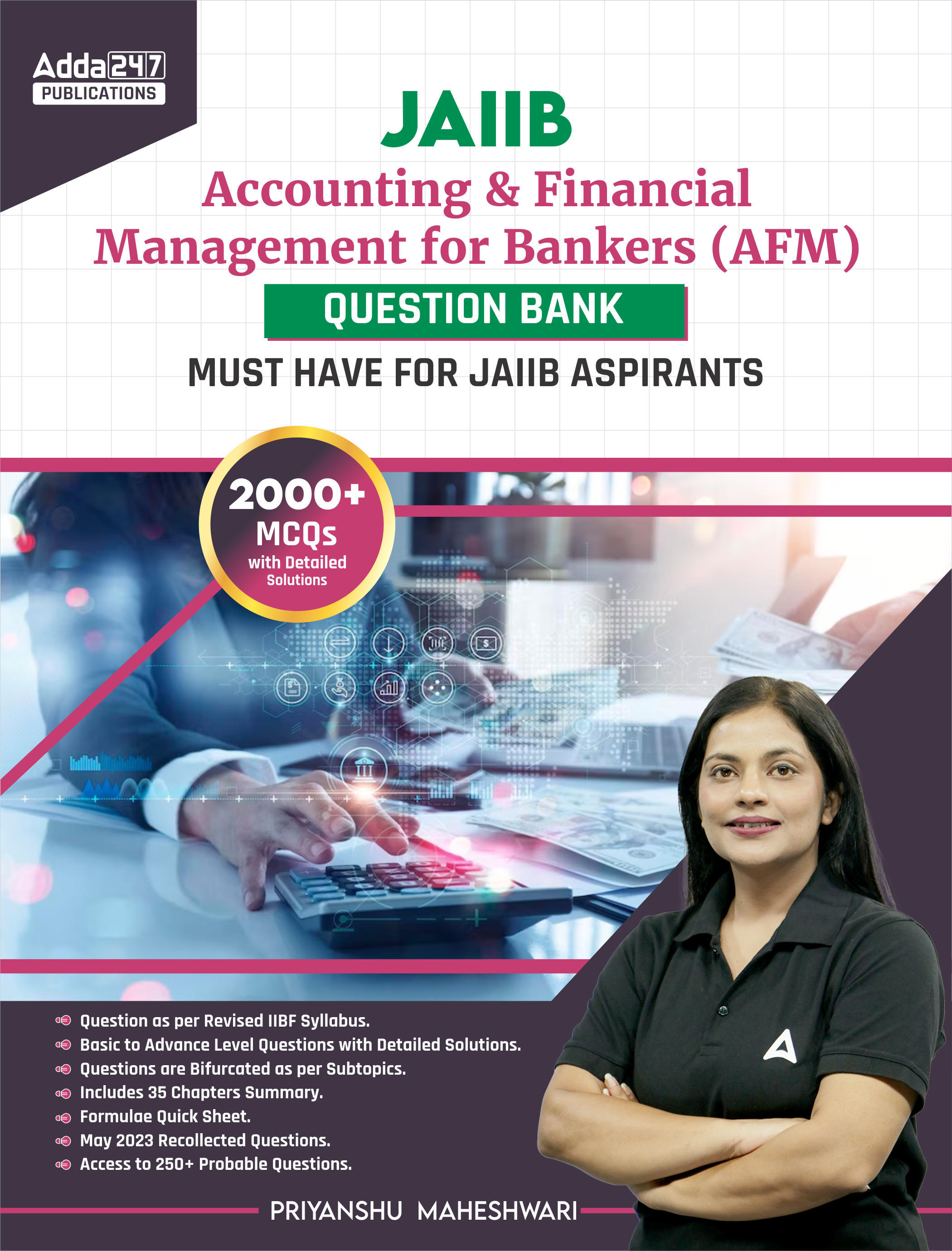 Book Highlights:
Questions As Per Revised IIBF Syllabus
Basic To Advance Level Questions With Detailed Solutions
Questions Are Bifurcated As Per Sub Topics
Strategy & Tips For Bank Exam Preparation
Include 35 Chapters Summary Formula Quick Sheet
May 2023 Recollected Questions
Access To 250+ Probable Questions
Key Features:
MCQs book covers all the essential topics and chapters prescribed in the syllabus, ensuring that candidates have a thorough understanding of accounting and finance principles relevant to the banking industry.
With thousands of thoughtfully curated multiple-choice questions, this book allows aspirants to practice and assess knowledge across various concepts, ranging from accounting basics to advanced financial management.
Get a feel for the actual JAIIB exam with MCQs designed to mimic the exam format and difficulty level. This prepares candidates to manage time constraints and enhances their confidence when facing the real test.
Every MCQ comes with detailed explanations and solutions, helping aspirants grasp the underlying concepts and reasoning behind each question. This aids in learning from their own mistakes and strengthening their weak areas.
Developed by renowned educator with in-depth knowledge of the JAIIB syllabus and exam pattern, this book has been a trusted resource for countless successful JAIIB candidates.