Extension of lockdown till 31 May– The Ministry of Home Affairs has released an official notice announcing the extension of the lockdown due to COVID-19 for a further period of 14 days i.e. lockdown has been extended till 31 May 2020. The ministry has also released a new set of guidelines for the nation-wide curfew and you can check the details in the link given below: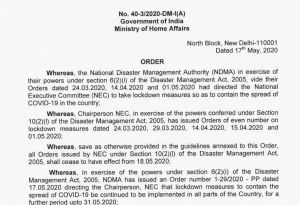 What is still prohibited in Lockdown 4.0. ?
In the set of guidelines given by the Ministry of Home Affairs it is stated that states will decide the Red, Green and Orange zones for lockdown till 31 May and interstate travel, all domestic and international travel, metro rail operation is still prohibited. School and colleges will not open till 31 May and neither will hotels, malls, gyms and restaurants. Social, political and religious gatherings are also prohibited.
Also Read,
Intra- state movement of passenger ethicals and buses shall be permitted (except in containment zones) and states can decide the guidelines for this.
Night Curfew in Lockdown 4.0.
The set of guidelines also have a point 6 dedicated to "Night Curfew" which states that the movement of individuals shall remain prohibited between 7PM to 7AM, except for essential activities.
Ban on e-commerce in non-essential items lifted for red zones too
Economic activities will not be allowed within the containment zones, but now ecommerce activities can take place in all the other zones.
Lockdown 4.0. comes with a relief to business
All shops, except those in containment zones and malls, will be allowed to open from Monday with staggered timings during lockdown 4.0. In containment zones only essential activities are allowed till 31 May.
Containment Zones in Lockdown 4.0.
Govt to conduct intensive contact tracing, house-to-house surveillance, and other clinical interventions, as required in the containment zones. No movement of people shall be allowed in containment zones.
Prepare With,