Hello Everyone,
My name is Naveen Kumar. I am a BBA graduate and have 5 Years of Work experience with Bank of America and a US MNC (Mercer).
Bank PO was my Dream Job and I successfully achieved it. This is the 4th government job in my kitty. I am here to share my journey to motivate and keep positive and calm to all my dear banking aspirants.
I belong to a rural area (a village Nandha in Bhiwani, Haryana). My father is a farmer. After completing my graduation, I wanted to become a banker. But owing to support the family and forbearing my own expenses, I joined a foreign bank (Bank of America) in June 2013. But I always wanted to be a part of a public sector bank. I started preparing for bank exams in June 2015. I tried my best but was not successful. (Sometime Mains out and sometimes interview). Finally, I decided to quit the job (In Sep 2018) and give my all-time to bank preparation.
 Bank Preparation Journey:
IBPS PO 2018 – Interview Out
SBI PO 2019 – Out in Mains by 0.07 marks.
LIC AAO – Mains out by close margin.
SBI Clerk (Cracked and scored 111 marks in Mains)
LIC ADO (Cracked the Mains and Interview, Joined and left for LIC Assistant)
LIC Assistant (Cracked, Currently Working)
IBPS PO (Cracked, Got PNB PO, Scored 100 Marks in Mains and 70 Marks in Interview)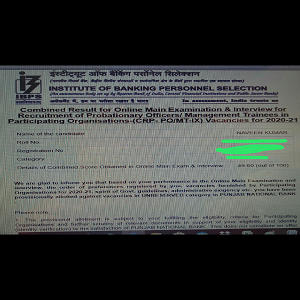 The year 2018-2019 One full Year, I dedicated to bank preparation (8-10 hours daily study in the library) and the result is in front of you. Just being consistent, positive, calm, and confident is the key to my success.
Also Read,
My Strategy For Prelims:-
Prelims are the test of speed with accuracy, so practice is the key. I used to attempt daily quizzes (2-3 of each topic from Adda247 with analysis). Also, I attempted 1-2 prelims full mock daily, when the exam is near 3-4 mocks daily. Complete review on your own is the most important thing you need to do.
Also, I used to solve every question on my own. (It helped in learning new tricks and developing self-dependent feeling).
Adda247 Daily Quizzes and Full Mocks are very relevant for the exam point of view. When you will be attending the real exam, you will feel like you are giving an Adda mock.
My Strategy For Mains:  
English Section: Reading the Hindu Newspaper daily, Noting down the new words, news, and events. Newspaper reading is very important for decoding the complex passages in the Mains exam. Even if you are not good at grammar, you can score well in English, if you read the newspaper on a daily basis.
I used to write weekly for descriptive practice. Also, I attempted 2-3 high-level daily quizzes from the Adda247 app on a daily basis. Sectional mock practice as well. All these things were very helpful in scoring 25 Marks in Mains in English.
Quant Section: I am already good at quant. However, the practice of high-level DI and miscellaneous questions was a must. For that, I followed a high-level book for some topics and practiced daily. Taking other people's doubt was also very helpful to me. (Always remember sharing knowledge means enhancing your knowledge) Also, this year Adda 247 Paid Mocks were very relevant for IBPS PO mains. I would say the practice of high-level DI's and Questions is the key. Just be patient and review on your own, take your time.
Reasoning Section:  Everyone faces difficulty in solving the mains puzzle (Need lots of patience and dare). While attempting the puzzles in Mains, Just be wise while attempting the puzzles and attempt the easy one first. I practiced well for miscellaneous topics like Syllogism, Inequality, Input-output, Logical reasoning, and all. In mains, I attempted only One puzzle, and rest other questions.
Current Affairs Section: I used to follow the Adda247 app. Multiple revision is a must. I did the same and scored approx 25 marks in mains. If someone does not want to spend much time on CA, Just follow Adda daily quizzes. The last 5-6 Months GA will be good to go for any bank exam. (They may ask most recent or 4-5 months old CA as well. Giving one hour to CA on a daily basis will be good enough.
Descriptive Paper: Reading the newspaper on a daily basis, letter, and essay writing practice. (Two letters and essay in a week). Then get them checked with your friends.
Key of my success are Consistency, Dedication, Passion, and Positive attitude. Always remember, "Consistency is the Mother of Mastery".
Thanks, Adda247 for your very relevant mocks and providing a very good platform to students for sharing their strategy, doubts, and success stories. 
All the Best to all Banking aspirants. Soon, I want to see your success story here!
Thank You!
Visit Achieversadda.com and participate in discussions with other aspirants and achievers. Get answers to your queries and connect with others on Achieversadda.com
Give a boost to your career in Banking, Prepare for JAIIB Exams-
Team Bankersadda Congratulates all Achievers!! Your hard work has finally paid off and now its time to share your success with the world. Send your success story with a success selfie to blogger@adda247.com
Register Here Achievers to Share Your Success Story
WhatsApp your Result to Us – 8750044828
Check updates related to notification, vacancies, eligibility, exam pattern, syllabus and more related to upcoming bank and insurance exams 2020: