The Hindu Editorial Article of 8th July 2020-Days of disengagement.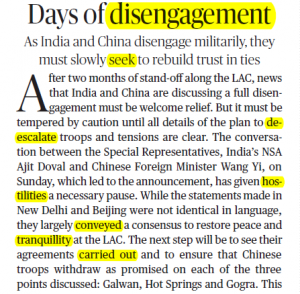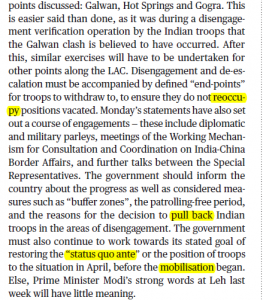 Word
Meaning
Disengagement (noun)

The action or process of withdrawing from involvement in an activity, situation, or group.

Seek (verb)

Attempt to find (something).

Escalate (verb)

Increase rapidly.

Hostility (noun)

Hostile behaviour; unfriendliness or opposition.

Convey (verb)

Transport or carry to a place.

Tranquility (noun)

The quality or state of being tranquil; calm.

Carry out (Phrasal Verb)
To bring to a successful issue : complete
Reoccupy (verb)

Occupy (a place or position) again.

Pull back (phrasal verb )

Retreat or cause troops to retreat from an area.

 

The previously existing state of affairs.

Mobilization (noun)

The action of making something movable or capable of movement.
Also Check,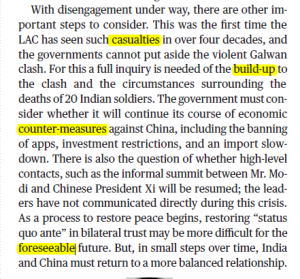 Article from- The Hindu Editorial
| | |
| --- | --- |
| Casualty (noun) | A person killed or injured in a war or accident. |
| Build-up (noun) | A gradual accumulation or increase, typically of something negative that leads to a problem. |
| Countermeasure (noun) | An action taken to counteract a danger or threat. |
| Foreseeable (adjective) | Able to be foreseen or predicted. |
Visit Achieversadda.com and participate in discussions with other aspirants and achievers. Get answers to your queries and connect with others on Achieversadda.com