The Hindu Editorial Article of 22 June 2020- Lost in Clarification.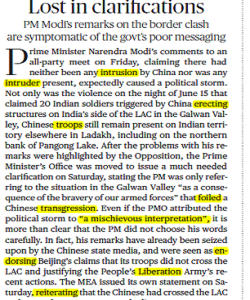 1.Intrusion (noun) –  The action of intruding.
2.Intruder (noun) –  A person who intrudes, especially into a building with criminal intent.
3.Erect (adjective) –  Rigidly upright or straight.
4.Troops (noun) –  Soldiers or armed forces.
5.Foil (verb) –  Prevent (something considered wrong or undesirable) from succeeding.
6.Transgression (noun) – An act that goes against a law, rule, or code of conduct; an offence.
7. mischievous (adjective) – causing or showing a fondness for causing trouble in a playful way.
8.Endorse (verb) – Declare one's public approval or support of.
9.Liberation (noun) – The action of setting someone free from imprisonment, slavery, or oppression; release.
10. Reiterating (verb) – Say something again or a number of times, typically for emphasis or clarity.
Also Check:-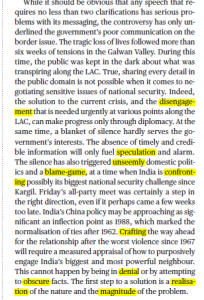 Article from- The Hindu Editorial
Practice With,
11.Disengagement (noun) –  The action or process of withdrawing from involvement in an activity, situation, or group.
12.Speculation (noun) – The forming of a theory or conjecture without firm evidence.
13.Unseemly (adjective) – (of behaviour or actions) not proper or appropriate.
14.Blame- Game (noun) –  A situation in which one party blames others for something bad or unfortunate rather than attempting to seek a solution.
15. Confronting (verb) –  come face to face with (someone) with hostile or argumentative intent.
16.Crafting (noun) – The activity or hobby of making decorative articles by hand.
17.Denial (noun) –  The action of denying something.
18.Obscure (adjective) – Not discovered or known about; uncertain.
19.Realization (noun) – An act of becoming fully aware of something as a fact.
20.Magnitude (noun) – The great size or extent of something.

Visit Achieversadda.com and participate in discussions with other aspirants and achievers. Get answers to your queries and connect with others on Achieversadda.com.