Which is Better, EPFO Enforcement Officer Through UPSC or SSC CGL?
SSC CGL and UPSC EPFO Enforcement Officer are two of the most lucrative job posts for which lakhs of aspirants preparing. But the question that arises in the mind of the candidates is which one is a better job position? It is very difficult to answer this question directly as both these job positions hold a great amount of importance in the government sector for various reasons. Here in this post, we are going to discuss those reasons and compare every aspect of the SSC CGL and UPSC EPFO Enforcement Officer posts so that candidates can choose which is better for them.
Which is Better, UPSC EPFO Enforcement Officer or SSC CGL?
We know SSC and UPSC EPFO both release recruitment notifications every year for the recruitment of eligible candidates. These both are golden opportunities for all those candidates who are preparing for government jobs. SSC CGL and UPSC EPFO EO both jobs are equally good and provide wonderful career prospects therefore candidates must be very specific and goal-oriented to choose one between them.
UPSC EPFO Enforcement Office Job Profile
A UPSC EPFO Enforcement Officer has to perform several duties which is part of his/her job profile. Here we have provided the complete Job Profile of the UPSC EPFO Enforcement Officer.
When employees make grievances and complaints then the work of Enforcement Officer tries to solve them.
Perform all the instructions mentioned in the manual of Enforcement Officers.
When new establishments are made the Enforcement Officer conducts a survey to know their coverage potential.
SSC CGL Job Profile
Candidates who get selected for the post of SSC CGL will have to perform both desk jobs as well as field jobs. Here we are going to discuss the complete job profile of SSC CGL.
Aspirants who will qualify for SSC CGL will be appointed as inspectors, AAO, Assistant Accounts Officers, Inspector of Income Tax, etc.
Candidates will have to work as upper-division Clerks assistants, assistants, auditors, tax assistants, etc. While performing the desk jobs.
UPSC EPFO प्रवर्तन अधिकारी या SSC CGL कौन सा है बेहतर विकल्प? देखें कम्पलीट डिटेल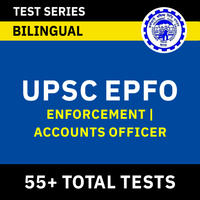 After comparing all aspects of UPSC EPFO or SSC CGL positions it becomes easy for the candidate to make the right choice while deciding between the two. Candidates must make their choice wisely and according to their area of interest and determination toward the upcoming exams.