CAIIB BFM, ABM, Retail Online Live Classes- English Medium Target Batch: CAIIB BFM, ABM, Retail Online Live Classes English Medium Target Batch is for the aspirants who are preparing for the CAIIB December 2022 Exam. A large number of candidates have qualified CAIIB June 2022 Exam under the guidance of our expert faculty members. To provide help to the aspiring candidates and make them clear CAIIB December 2022 Exam easily Adda247 has come up with the CAIIB BFM, ABM, Retail Online Live Classes English Medium Target Batch. It is the right time for the candidates to enroll in the batch and start their preparation with complete passion and dedication.
CAIIB BFM+ABM+RETAIL| English Medium Online Live Classes | Complete Target Batch By adda247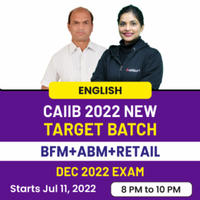 CAIIB BFM+ABM+RETAIL NEW TARGET BATCH | 2022 DEC EXAM | ENGLISH MEDIUM LIVE CLASSES BY ADDA247
Batch Start Date: 11 JULY 2022
Class Timing : 08:00 PM to 10:00 PM
Course Highlights:
Complete coverage of the Course through 120+ hours of Live Interactive Classes of ABM+BFM+RETAIL
Mocks & E-books for Regular intensive practice
Topic-wise e-books will be provided for ABM & Retail.
When you have a hectic day at work and can't attend the live class, watch recorded videos at your convenience.
Detailed subject Expertise for CAIIB DEC 2022 attempt.
In-depth analysis of the subject till the last day of your exam under the guidance of Experts
Subject Covered:
CAIIB PAPER -1: Advanced Bank Management (ABM) provides the advanced knowledge for better decision making at the senior levels in banking and financial systems with regard to the economy as a whole, statistical analysis, HR, and loan processing.
CAIIB PAPER – 2: Bank Financial Management (BFM) gives you an advanced understanding of various aspects of treasury, forex, export financing, and RBI norms as well as reporting so that the individual can comfortably work at senior levels in any financial institution including banks
CAIIB PAPER – 3 (Elective): Retail Banking provides in-depth knowledge of branch banking including the banking technologies and various contemporary products in retail banking.
About the Faculty Members:
Sr. Faculty Vishal Mantri Sir
[JAIIB & CAIIB Subject Expert, CDCS Trainer, Certified Bank Trainer (IIBF)]
(a) More than 15,000 candidates have been qualified and trained under the mentorship of Vishal Mantri Sir
(b) 8+ years of experience in teaching & mentoring Bankers for JAIIB & CAIIB Exams
Priyanshu Maheshwari
CA, MBA (Finance), JAIIB]
(a) More than 2000 candidates have been qualified and promoted under the guidance of Priyanshu Maheshwari Ma'am
(b) 10+ years of experience in training and mentoring candidates for various bank promotional examinations and also part in training the bank officers across India.
(c) More than 5000 Candidates have been taught
Related Posts: