Important Topics For JAIIB LRAB Paper: As only a few days are left for the JAIIB LRB Exam 2022, Candidates must revise all those topics which have more weightage. The syllabus of Legal and Regulatory Aspects of Banking is vast so aspirants should pay more attention to the important topics. Revising the complete syllabus of LRAB in a priority-based manner will help the aspirants to get more marks in the paper of LRAB. In this article we have marked the important topics that a candidate has to cover for the JAIIB LRB Exam 2022.
 Most Important Topics for JAIIB Paper III, Legal and Regulatory Aspects of Banking
Legal and Regulatory Aspects of Banking comprises of four Modules. Module C and D of LRAB are the most important for a candidate as out of 100 Questions 70 Questions are asked from these both modules. The important sections that an aspirant has to cover for JAIIB LRB Paper are:
Indian Contract Act, 1872:  The meaning and some essential terms and provisions of the contract and also the types of contract.
The Sale of Goods Act, 1930: Meaning, Condition & Warranty and Rights of Unpaid Seller .
Indian Partnership Act, 1932:  Meaning, Types of Partner, difference between partnership and company, how a partnership can be dissolved.
The Companies Act, 1956 (Now Companies Act, 2013): Meaning, Types of company, Memorandum and Articles of Association (MOA & AOA), doctrines, members, directors, prospectus.
Transfer of Property Act, 1882: Mainly cover about Mortgage as more number of questions are from this topic.
The Right to Information Act, 2005: Meaning,  About Public Authority and Penalties.
The Prevention of Money Laundering Act, 2002: Definition, Stages undergone by black money to become white money.
Information Technology Act, 2000:  Definition, Important Terms and Penalties.
Foreign Exchange Management Act, 1999: Definition, Terms and Penalties.
Insolvency and Bankruptcy Code, 2016: Definition, Terms and Penalties.
Recovery of Debts due to Banks and Financial Institutions Act,1993(DRT Act):Various objectives of the Act, the Constitution of the Tribunals (DRTs)
Securitization and Reconstruction of Financial Assets and Enforcement of Securities Interest Act, 2002 (SARFAESI): Complete process of SARFAESI, Definition and Terms.
Banking Ombudsmen Scheme: Banking Ombudsmen scheme deals about what is the purpose of the scheme; the Extent of its applicability; Definitions; Establishment; Powers and Procedure for Grievance Redressal.
Bankers Books Evidence Act, 1891: Definition and Terms
The Legal Services Authorities Act, 1987: The Act takes us through the system of Lok Adalats – the Organization; the Jurisdiction; the Disposal of Cases and Awards, etc.
The Consumer Protection Act, 1986 and CERSAI (Central Registry of Securitization Asset Reconstruction and Security Interest of India): Jurisdiction, Definition, Terms and Penalties.
The Law of Limitation: Limitation Act defines what limitation is, how it is computed and some Important Provisions that are given in the schedule to the Limitation Act
Tax Laws: GST, PAN and other definitions.
Payment and Settlements Systems Act, 2007: This act deals with the information regarding the applicability of the Act; definitions and some Important Provisions.
Negotiable Instruments Act, 1881: Definition and the important provisions.
Related Posts: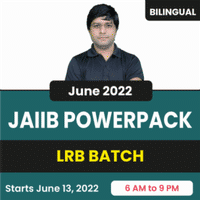 FAQs: Important Topics for JAIIB Paper III
Q.1 Which Module is most important for the JAIIB LRB Exam 2022?
Ans. The most important module for JAIIB LRB Exam 2022 are Module C and D.
Q.2 What are the important topics for JAIIB LRB Exam 2022?
Ans. The important topics for the JAIIB LRB Exam 2022 are listed above.