JAIIB PPB, AFB, LRB Online Live Classes- Bilingual Target Batch: JAIIB PPB, AFB, LRB  Online Live Class is for all those candidates preparing for JAIIB November 2022 session. As the exam dates for the JAIIB November 2022 session is out aspirants now require the right strategy for their preparation. Adda247 has brought JAIIB PPB, AFB, and LRB Online Live Classes in bilingual medium to help the candidates qualify for JAIIB November 2022 Exam in a single attempt and is also for those who intend to do a quick revision of the course under the expert guidance of the expert faculty members. For the complete details regarding the online live classes go through the article below.
JAIIB PPB+AFB+LRB Nov-Dec 2022 Online Live Classes | Complete Bilingual Target Batch By adda247
Batch Start Date: 27-Jun-2022
Class Timing: 7:00 PM TO 10:00 PM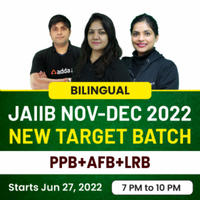 What is JAIIB?
JAIIB stands for Junior Associate of the Indian Institute of Bankers.
It is a flagship course offered by the Indian Institute of Banking and Finance (IIBF).
JAIIB Exam is for Bankers.
The exam is held twice every year – Once in May and once in November.
JAIIB has 3 papers – Principles and practices of banking, Accounting, and Finance for bankers and Legal and regulatory aspects of banking of 100 marks each.
Clearing JAIIB will earn you increments in Banks and consequently will fetch you an increased salary. In some banks even for promotion, there is some weightage for JAIIB. It will enhance your knowledge which in turn will help you even in your day-to-day work.
Subject Covered:
JAIIB Paper-1: Principle and Practices of Banking (PPB) is an introduction to Indian banking and touches on almost every aspect, from the Indian financial system to contemporary issues and developments in the industry.
JAIIB Paper-2: Accounting and Finance for Bankers (AFB) cover major aspects of both accounting and finance required to gain proficiency in the day-to-day accounting in the bank.
JAIIB Paper-3: Legal & Regulatory Aspects of Banking (LRB) brings an all-inclusive view into all the laws associated with the banking and finance terminologies.
Course Highlights:
Complete coverage of the Course through 140+ hours of Live Interactive Classes and Recorded videos (PPB, AFB & LRB)
60+ eBooks (PPB+AFB+LRB) Updated Study Material 2022
80+ Topic-wise Test Series
When you have a hectic day at work and can't attend the live class, watch 24×7 recorded videos at your convenience and get all the content anytime, anywhere.
Detailed subject Expertise for JAIIB November 2022 attempt.
In-depth analysis of the subject till the last day of your exam under the guidance of Experts
 JAIIB Team Experts:
Praveen Rana
[MBA, JAIIB, CAIIB, NISM, NCFM, CCOC]
(a) 8+ years of experience for training and mentoring bank officers for internal bank promotional examinations and conducting various other training across India
(b) More than 3000 candidates have been passed and promoted under the guidance of Praveen Sir
(c) More than 5000 Candidates have been taught
Priyanshu Maheshwari
CA, MBA (Finance), JAIIB]
(a) More than 2000 candidates have been qualified and promoted under the guidance of Priyanshu Maheshwari Ma'am
(b) 10+ years of experience in training and mentoring candidates for various bank promotional examinations and also part of training the bank officers across India.
(c) More than 5000 Candidates have been taught
Adv. Nikita Singh
BA LLB, LLM (Gold Medalist)
Law Subjects Expert (Banking Exam/Judiciary Exam/Law Entrance Exam)
7+ Years of Experience
More than 1000+ Selections
Related Posts: