Last Minutes Tips for IDBI Executive Exam 2022: The Industrial Development Bank of India will soon be conducting the IDBI Executive Exam 2022 on 9th July 2022. It is a golden opportunity for all the candidates who are aiming for the banking examination. We hope that candidates who will appear in the IDBI Executive Exam 2022 are going well with their preparation. For the purpose of helping our aspirants, we are here with some last-minute tips for the IDBI Executive exam 2022.
IDBI Executive Admit Card 2022
Last Minutes Tips for IDBI Executive Exam 2022
IDBI Executive Exam 2022 is scheduled to be conducted on 9th July 2022. With just a week left for the exam, aspirants should do proper preparation to avoid any last-minute confusion. In this post, last-minute tips have been discussed with an aim of helping aspirants to crack the IDBI Executive Exam 2022. First of all, students must have knowledge of the syllabus and exam patterns. As the competition is tough, only qualifying for the exam is not enough. Candidates should aim to score high marks to be able to clear the cut-off marks. It is high time to brush up on the preparation and get hold of weak and strong areas.
The overall strategy is to plan and execute an efficient timetable as it will help aspirants to cover all the subjects from the beginning. A structured timetable will reduce the burden of last-minute preparation and help in preparing a short span of time.
Candidates can attempt the questions in two phases in the first phase attempt the questions which are easy and take less time to solve. In the second phase attempt questions which are hard. This way you will be able to clear the sectional cut-off and get a high score.
Aspirants should not spend too much time on one question. Candidates must learn to manage their time better by practicing Adda247 mock papers on a regular basis.
Attempt the questions in the following orders- first the question you know and can solve quickly, then the questions you think you can do but are time-consuming. Remember never try and waste your time attempting the questions you are not confident of solving. There are a lot of other questions to solve and score. Your aim is to clear the paper, not top it.
Previous year's question papers play a very important role in providing an idea to the candidates about the exam pattern and the difficulty level of the examination, so it is advisable for the candidates to practice with the previous year's question papers as well.
There is negative marking in the exam if you choose to mark an answer without knowing the proper opinion, be careful. We do not propose making blind guesses.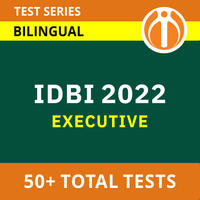 Latest Notifications
Recent Posts