JAIIB AFB English Medium Paid Demo Class for Free: JAIIB AFB English Medium Paid Demo Class is for the candidates preparing for the JAIIB Exam 2022. The Indian Institute of Banking and Finance(IIBF) has released the complete details regarding the JAIIB November Exam 2022 and it is the right time for the aspirants to start their preparation. Candidates wander for the best and latest study material for their preparation therefore Adda247 has brought the JAIIB PPB, AFB, LRB November-December 2022 English Medium Online Live Classes Complete Target Batch.
JAIIB AFB English Medium Paid Demo Class will be conducted on the OfficersAdda247 Official Youtube Channel. Candidates can directly watch the JAIIB AFB English Medium Paid Demo Class by clicking on the link given below. JAIIB aspiring candidates must watch JAIIB AFB English Medium Paid Demo Class video as they will get to know how  OfficersAdda247 can help them understand the detailed concepts and prepare them easily for all the JAIIB/CAIIB promotional exams.  Our expert faculty member Priyanshu Maheshwari Mam will conduct JAIIB AFB Demo Class. She has more than 10 years of experience in training and mentoring candidates for various bank promotional exams and also part of training the bank officers across India. She has taught more than 5000 candidates and 2000 plus candidates have qualified and promoted under her guidance. Candidates must avail the JAIIB PPB, AFB, LRB English Medium Complete Target Batch to crack the JAIIB Exam easily.
JAIIB PPB+AFB+LRB NOV-DEC 2022 English Medium Online Live Classes | Complete Target Batch By adda247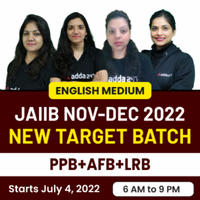 Batch Start date: 04-Jul-2022
Class Timing: 06:00 AM to 09:00 PM
Course Highlights:
Complete coverage of the Course through 130+ hours of Live Interactive Classes (PPB, AFB & LRB)
61+ eBooks (PPB+AFB+LRB) Updated Study Material 2022
30+ Topic-wise Questions MOCKS of AFB
When you have a hectic day at work and can't attend the live class, watch recorded videos at your convenience.
Detailed subject Expertise for English medium JAIIB DEC 2022 attempt.
In-depth analysis of the subject till the last day of your exam under the guidance of Experts
Subject Covered:
JAIIB Paper-1: Principle and Practices of Banking (PPB) is an introduction to Indian banking and touches on almost every aspect, from the Indian financial system to contemporary issues and developments in the industry.
JAIIB Paper-2: Accounting and Finance for Bankers (AFB) cover major aspects of both accounting and finance required to gain proficiency in the day-to-day accounting in the bank.
JAIIB Paper-3: Legal & Regulatory Aspects of Banking (LRB) brings an all-inclusive view into all the laws associated with the banking and finance terminologies.
JAIIB AFB English Medium Paid Demo Class Video Link:
Related Posts: