JAIIB AFB Online Live Classes- English Medium Target Batch: A piece of good news for the aspirants preparing for the JAIIB AFB Exam 2022 as Adda247 has brought JAIIB AFB Online Live Classes English Medium Target Batch. The candidates who find the JAIIB AFB Paper to be tough must avail the JAIIB AFB Online Live Classes English Medium Target Batch and prepare under the guidance of expert faculty members. It is a golden opportunity for the candidates to avail the batch as the batch will assist them in clearing JAIIB AFB Paper in a single attempt. The complete detail of the JAIIB AFB Online Live Classes English Medium Target Batch is provided below.
JAIIB AFB Nov Dec-2022 English Medium Online Live Classes | Complete Target Batch By adda247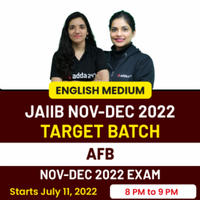 JAIIB AFB LIVE CLASSES | ENGLISH MEDIUM TARGET BATCH BY ADDA247
Batch Start Date: 11-Jul-2022
Class Timing: 08:00 PM to 09:00 PM
Class Days: 6 Days in a Week (Mon-Sat)
Language – English Medium
Course Highlights:
Complete coverage of the Course through 45+ hours of Live Interactive Classes (AFB)
15+ eBooks (AFB) Updated Study Material 2022
When you have a hectic day at work and can't attend the live class, watch recorded videos at your convenience.
Detailed subject Expertise for English medium JAIIB NOV-DEC 2022 attempt.
In-depth analysis of the subject till the last day of your exam under the guidance of Experts
Subject Covered:
JAIIB Paper-2: Accounting and Finance for Bankers (AFB) cover major aspects of both accounting and finance required to gain proficiency in day-to-day accounting in the bank.
 Our JAIIB Team Experts:
Priyanshu Maheshwari Ma'am
[CA, MBA (Finance), JAIIB]
(a) More than 2000 candidates have been qualified and promoted under the guidance of Priyanshu Maheshwari Ma'am
(b) 10+ years of experience in training and mentoring candidates for various bank promotional examinations and also part of training the bank officers across India.
(c) More than 5000 Candidates have been taught
Niharika Walia ma'am
[M.COM, CA-IPCC, UGC NET COMMERCE, B.ED]
(a) With a combined teaching experience of more than 7+ years in the field of Regulatory Bodies, Advanced Finance & JAIIB/CAIIB Programmes
(b) Demonstrated history in the field of teaching wherein more than 4000+ aspirants & bankers have been taught & trained for various competitive examinations
(c) With core strengths in Accounting & Management, Niharika ma'am has delivered more than 1000+ selections across examinations pertaining to Regulatory Bodies & JAIIB/CAIIB Examinations.
Related Posts: