JAIIB AFB Topic Wise Weightage & Preparation Strategy: Candidates preparing for the JAIIB AFB Exam must know the JAIIB AFB Topic wise weightage to make their preparation strategy. JAIIB AFB Paper has four Modules: Business Mathematics & Finance, Principles of Bookkeeping & Accountancy, Final Accounts, and Banking Operations. Topic-wise weightage helps a candidate to prepare their study plan and it should be strictly followed to qualify JAIIB AFB Exam. To help the aspirants we have provided in this article JAIIB AFB Topic-wise weightage and Preparation Strategy.
JAIIB AFB Topic Wise Weightage
Accounting and Finance for Bankers comprises of two sections: Accounts and Finance. There are 4 Modules in the JAIIB AFB Paper. The part of accounts is mainly dealt in Module B and Module C. The topics of Finance is covered in Module A. In JAIIB AFB Exam, 70 Questions  are asked of 1/2 marks which are relatively easy. Most of the 1/2 marks and 1marks questions comes from Module B. and the topics include:
Accounting Concepts
Bills of Exchange
Bank Reconciliation System
Accounting Procedure
Candidates can also expect 1/2 marks and 1 marks question from revenue and capital expenditure.
From Module C an aspirant can look for 1 and 2 marks question and the topics which need to be mainly covered are:
Company Accounts
Accounting Ratios
Final Accounts
Maximum 2 marks questions are asked from Module A which deals with the Finance Section. In the JAIIB AFB Paper there are total 15 Questions of 2 marks. A candidate has to focus on the given topics to score better in this part.
Interest and Annuity(Present Value/ Future Value)
Bonds
Capital Budgeting
Depreciation
Forex
Module D, Banking Operations is easy for the banking employees as Basic Banking Concept, Practical Banking Exposure, etc. are studied in this unit. If an aspirant is good in this section then they can easily score 15-20 marks.
JAIIB AFB Preparation Strategy
To prepare for the JAIIB AFB Paper one must understand the terminologies used in the AFB Paper and their basic concepts should be crystal clear. To deal with the topics of Module A, Accounting and Finance for Bankers the basic terms must be at the tips. Some of the tips that an aspirant should include in their preparation strategy are:
Make a systematic Study Plan– Aspirants need to make a systematic study plan and devote at least an hour to the JAIIB AFB Paper. As the banking employees have a hectic work schedule they must implement their study plan effectively.
Once analyze the complete syllabus- Once the aspirants must analyze the complete syllabus and then plan accordingly.
Refer the JAIIB Latest Study Material- To get the best content and solve the latest pattern questions candidates must refer the latest study material for JAIIB AFB. A large number of platforms are active today in providing study material for JAIIB AFB but we should depend only on the authentic ones.
Attend topic-wise mock and full-length Mock Tests- Attend the topic-wise as well as the full-length mock tests and don't forget to analyze your performance at last. Mock Tests will give you the feel of a real exam. Examine your weaker section and work upon it.
Give proper Time for Revision- When an aspirant doesn't revise any topic then it gets out of their mind. So the aspirants should give proper time for revision and the completed topics must be revised at frequent intervals.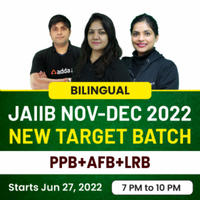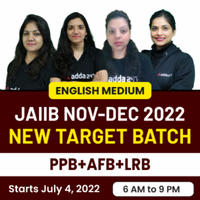 FAQs: JAIIB AFB Topic Wise Weightage and Preparation Strategy
Q.1 What are the two sections of AFB?
Ans. The two sections of AFB are Accounting and Finance.
Q.2 Which module deals with the account section in JAIIB AFB?
Ans. Module B and Module C deals with the account section in JAIIB AFB.