SBI PO Reasoning Ability Preparation Strategy for Prelims Exam 2022: The State Bank of India is going to conduct the SBI PO Prelims 2022 on 17th, 18th, 19th & 20th December 2022 and many aspirants are preparing for this examination. SBI PO is a highly competitive exam as every year lakhs of candidates appear in this exam, so today in this post we have provided SBI PO Reasoning Ability Preparation Strategy for Prelims Exam 2022, which will help candidates in structuring and formulating a perfect strategy to score maximum marks in reasoning ability section.
SBI PO Reasoning Ability Preparation Strategy for Prelims Exam 2022
In the SBI PO Prelims Exam 2022, the total weightage of the reasoning ability section is 35 questions with a sectional time limit of 20 minutes. In the table provided below, candidates can check the topics from which questions were asked in the previous year's SBI PO Prelims Examination 1st shift.
SBI PO Exam Analysis 2021: Reasoning Ability
Topics
No. Of Questions
Row-Based Puzzle (8 Members with Post)
5
Year-Based Puzzle (3 Months, 2 Dates)
5
Comparison-Based Puzzle ( Based on Measurement of Water)
4
Circular Arrangement (In-Out 6 Persons with Fruit Variables)
5
Selection-Based Puzzle
4
Syllogism
5
Coding-Decoding
1
Blood Relation
3
Direction & Sense
2
Meaningful Word
1
Total
35
Puzzle
As we all know Puzzles are the most common scoring topic that is seen in SBI PO Prelims examinations. In SBI PO Prelims Exam,  puzzle is an important topic that is usually asked in the set of 4-5. Generally, the first few sentences of the given data give you the basic information that is required to know the general idea of the puzzle. Most Puzzles are tricky. So, take care of every word and sentence.
Syllogism
As per the previous year's SBI PO Prelims exam analysis, we can expect 4-5 questions from the syllogism topics. Syllogism topic is one of the scoring and common topic for SBI PO as well as other banking examination. It is advisable that you should not assume things based on their common belief, instead of it follow the certain rules laid in to solve this topic. A syllogism can easily be solved by doing the visual representation of the statements and then giving answers by following them.
Coding-Decoding
Coding decoding is a part of the logical reasoning section used to encrypt words, numbers, letters, or something a mixture. Coding Decoding is the most important topic in SBI PO Prelims Examination and helps in increasing those extra marks which you require for your final selection.
Related Posts: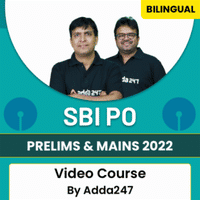 Blood Relation
Blood Relation means a relationship between two or more persons. A proper understanding of relations is a must for solving blood relation questions. Some words or relations are purposely quoted to confuse the candidates. These words are spouse, sibling, aunt, uncle, etc. Firstly try to clear these all concepts. To score good marks in blood relation topics practice as much as you can.
The level of the Reasoning Ability Section wouldn't be very tough therefore candidates don't need to do anything exceptional. Adda 247 is the only platform where you will get all the quizzes related to SBI PO Prelims Examination 2022.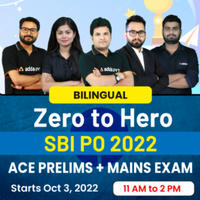 Latest Govt Jobs Notifications
FAQs: SBI PO Reasoning Ability Preparation Strategy for Prelims Exam 2022
Q1. How many sections are in the SBI PO Prelims 2022 Examination?
Ans. There are three sections in SBI PO Prelims 2022 Examination.
Q2. What should be my SBI PO Prelims 2022Preparation Strategy?
Ans. Candidates can check SBI PO Prelims Examination Preparation Strategy in the given above article.
Current Affairs